The Mill Resort
September 2002 by Mr. & Mrs. Davis
My husband and I celebrated our 5th Wedding Anniversary in Aruba September 2002. We flew out of Hartsfield Airport, Atlanta, GA. We had a connecting flight with a 2 hour lay over in Miami. The plane was full, no room to spread out. I didn't think so many people would be on the plane. I slept most of the flight and awoke when the pilot announced we would be arriving soon.
When the island was in view, I really started to get excited seeing the beautiful blue/green water surrounding the tiny island. Going through customs was a breeze. Note that I did not have my passport (my husband had his). I traveled with my drivers license and birth certificate (with raised seal) and had no problems. We went to the DePalm Tours desk and got our ticket for the bus to our hotel. We were traveling on a budget so we stayed at the Mill Resorts. While it did not look as pretty as the pictures on their website (no where ever does), it was not bad. We checked in, received our complimentary rum punch and went to our room. The pool area was beautiful. It has lots of palm trees for shade. The room was standard, it had a king size bed and a hot tub (which we loved and used!!!!!!). Our room had a balcony but the view was not that great. There was nothing for us to look at so we did not go onto the balcony. But we did not come to Aruba to spend all day in our room.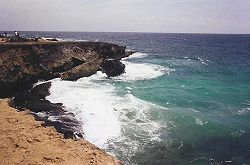 That night we had dinner in the restaurant at the Mill. The dishes were good and the prices were not bad. We feel that when we visit a caribbean island or a foreign country, we like to experience local dishes which they had. We did not fly thousands of miles to have the same old burgers and fries or steak and lobster that we could have back home. Dinner was very romantic. The breeze was blowing, there was music playing and it was not crowded. Our waitress was very friendly and helpful to explain some of the dishes for us.
After dinner, we walked over to the Wyndham. We thought the hotel was very beautiful with lots of amenities. Much more upscale than the Mill Resort. We visited the casino which was nice. We are not avid gamblers but we played a couple of the machines. Didn't win anything but enjoyed ourselves. We discovered the arcade and my husband was in heaven. We then took a long romantic walk on the beach and passed through the grounds of several of the other hotels. It is true what they say about the Wyndham; it is windy. Not as drastic as some people wrote, but I did notice the difference when we walked back through their grounds.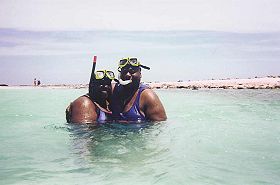 The next day we got up and got ready early. We had to go over to the Wyndham because the DePalm representative did not show up at the Mill Resort. I wanted to do the Aruba island tour with DePalm but missed the early bus. We then had breakfast at the Wyndham which I found to be a little expensive but it had a wide variety and was very good. We then walked out and visited with the beautiful parrots on the grounds. My husband loves birds and he enjoyed this.
We took the bus into town and walked around and did a little shopping. The prices for souvenirs were pretty good. It is always good to go to a couple stores before making a final purchase. I noticed that each store's prices varied by a couple dollars. We picked up some supplies at Hong King???? I'll agree with everyone, the cheese is the bomb. I wish we bought more! We then took the bus back towards the hotel and decided to go to the butterfly farm. My husband really enjoyed this. Butterflies were all over the place. There is a fish pond there where my hubby spent time looking at all the fishes. We got some great pictures.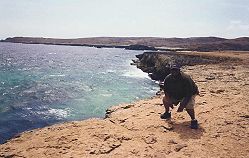 It was then back to the hotel to rest after an exhausting day. I was very grateful for the constant wind on Aruba. We hit the pool and enjoyed the festivities at the Mill. Randall is a great DJ and gets everyone motivated. The happy hour was a lot of fun. There were people dancing and the drinks were good but a little strong (not much of a drinker). Friday night at the Mill Resort is very popular with the locals. There was a live band. We ordered room service that night because the restaurant was very crowded. We heard about the pumpkin soup and tried it along with another soup (cannot remember the name), it had shrimp in it and they were both delicious!!!!!!!!!!!!!!!!!!!
The next day we took the DePalm island tour and Baby Beach snorkeling trip. We had a great time sightseeing. The natural bridge was beautiful and being on the rocks so close to the coastline of Aruba was breathtaking (I have that picture as my wallpaper on my computer to remind me each day). It was VERY windy at the California Light House. I was glad I had my hair up, I felt sorry for those who didn't.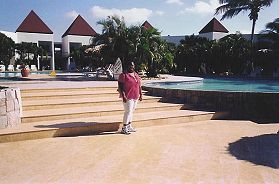 The best part of the tour was snorkeling at Baby Beach. I cannot swim but my hubby can and he had a blast. I just enjoyed splashing around in the water. We purchased an underwater disposable camera before we left and he got good use out of it. He saw lots of fish (one even bit him on his finger because he got too close to them). We got some great pictures.
To sum it up, we had a great time. Aruba's beaches were beautiful. So for those who love to travel and don't have the big bucks to spend, the Mill Resort is not a bad choice. In my opinion, it is not as bad as I heard on some of the boards. It's not the Ritz but it's not a dump. Also I was worried about what was said about the DePalm bus to and from the airport, but we had no problems with it. A couple of ladies we made friends with took a cab to the airport and we still made it there before they did even with the stops the bus made.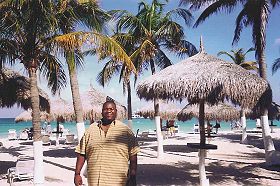 I'm sorry this report is so long. But I found it very helpful when everyone was very detailed on their trip reports. If you are looking for an island to kick back and relax, Aruba is the place to be. We will visit Aruba again in the future.
Mr. & Mrs. Davis Covington, GA