Wyndham Aruba Beach Resort (now Westin)
November 28 - December 8, 2002 by Bob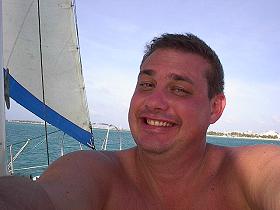 I went to Aruba on Thanksgiving day. I met my best friend in Charlotte and arrived at 330 p.m. We jumped in a taxi and off to the Wyndham we went. Our taxi driver drove very fast and was very rude. When we got to the hotel, we found that they are doing renovations and we had to enter through the lower lobby and we were confused as to where to go from there. the power was off and there were no signs telling us we had to go up one level to check in. We got checked in and went to our room and my by request items were there along with a letter of welcome from the staff. I checked out the view from my room and I truly believe I had the best view on the island. I was in room 1700 which is an oceanfront junior suite. I could not get over the view and was very pleased with things so far.
The first thing I did was get my swim suit on and go for a swim in the sea and to get a few drinks in me. I sat at the Tambu bar for quite awhile and got pretty well juiced. It was getting dark so I walked down to the Marriott so I could eat at Champions. While it took about 20 minutes for a waitress to see what we wanted, we enjoyed the football game on t.v. I ordered the 1 pound burger and it was fantastic. After alot of bullshitting with the waitress, I told her I could eat another one and made a bet with her for the price of dinner but she declined. She went away and came back and said that her manager said if I ate the 3 pound burger by myself it would be free. ($80 value) so I told her I would be back later in the week to do that. I never did make it back there. (too drunk) So, after dinner I went back to the Wyndham and went to the hot tub. I was really drunk and met alot of people there but I cant remember their names. I just called everybody Stephanie. The first day was a blast!
FRIDAY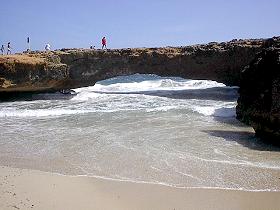 I had made reservations for the Tranquillo but they werent confirmed but capt. Anthony called my room and verified the whens and the wheres and it turns out, it was right outside my hotels beach. He picked us up in the dinghy and took us to the boat where we all sat on the deck and he introduced himself and Roy, the 1st mate. They declared "open bar" and some dingbat asked for coffee. Roy handed a rum punch to me and said it was aruban coffee. Hardly anybody took advantage of the open bar so I took on the heavy burden of drinking enough for everybody. Everybody pretty much stayed on the deck while we set sail but I went into the shade and talked with Roy and Anthony for awhile. Soon after that, some chick on the boat came over by me and started talking to me about her life and other meaningless things. We talked for about 30 minutes and I really couldnt tell you anything she said cuz all I really paid attention to was her chest Capt. Anthony threw a line into the water when we set sail and when we got to the south side of the island he got a strike. It turned out to be a baracuda and I got a good picture of it. A little further down the coast, we stopped and got our snorkel gear and bailed out for some snorkeling (bet you saw that coming, huh?) The snorkeling was ok but not great. after about an hour of this we headed back to the boat for the famous pea soup. I can tell you only one thing about the soup, FANTASTIC! I had about 6 cups of it and wanted more but it was all gone.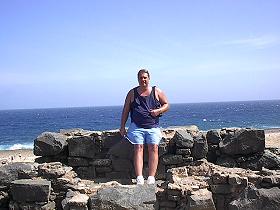 Anthony cruised over to his mom's house in the dinghy while we ate and I went for a swim while we waited for him to return. When he got back we turned the boat around and started our sail back to palm beach. This is where I went up on deck and sat with my friend who was engaged in conversation with keljel from this bb. (small world) She was talking about her trip and we laughed a whole lot! Her folks were with her and they are very nice people.I , apparently had my mother on board with us because all I heard was "you are getting red. put a shirt or sunblock on" Since I was well lubricated and feeling no pain, I assumed maybe they had hit the coffee a little hard themselves. I gave my standard answer which is basically the same words I heard from them "blah blah blah blah". They thought this was funny, but I swear to you, that is what I heard coming out of their mouths. So, on the way back, I told them the story about the first time I went skydiving and I wasnt sure if they laughed at me or my story.(it wasnt pretty) After the trip was over, it was getting to be dinner time and keljel suggested that we should go eat together. (I should mention that keljel is married but her husband did not come to Aruba with her) Well, since I had the lion's share of rum punch on the boat, (about 40 of them) the rest of the evening is kinda blurry.... I am told we ate at MooMbas and I had rack of lamb. I am not sure how it tasted because I cant even be sure I was there.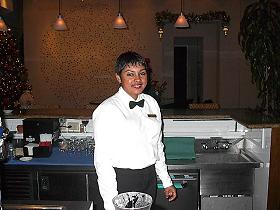 After dinner we allegedly walked keljel back to her hotel but on the way I met some new friends. I would love to mention their names but as with the rest of the trip, I dont remember names. Lets just say they were named Stephanie. So we finally made it back to the hotel and we sat on some chairs in the lawn and bullshitted for quite awhile. I had to go after a couple hours cuz I was gonna pass out and then my friend would have been in trouble. ( ever drag a 300 pound man a mile through the sand?) that is the end of day 2. get a cup of coffee, still 9 days to go!
SATURDAY
On saturday morning I woke up and had breakfast and hit the beach. The beach didnt really like me hitting it so I apologized and just layed on it like everybody else. I think I was on the beach all morning and then all of a sudden I wanted to go jet skiing( those impuse control classes dont work) so I called the concierge and he hooked me up with some group on eagle beach. On the way to the beach, the driver told us that there was a big party at Carlos and Charlies that night and he would pick us up if we wanted to go, and would bring us columbian girls too. We declined his offer (dont know why) and when we got to the jetski area we decided to do parasailing too. We did the jetski thing and now my friend wants to buy one! It was really alot of fun for him, I had done it many times before so it wasnt new to me. Then they took us back to palm beach to parasail and my friend went first. I dont think he could have gotten the smile off his face if he wanted to. While I was in the air, I noticed that we were in the windsurfer's area and when we knocked a guy off his board, I laughed like a little school girl! He came up shaking his fist...oh man it was hilarious!!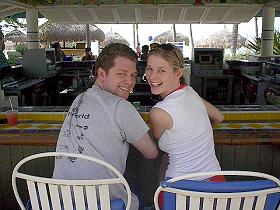 After the watersports, we headed back inside to get our showers and cleaned up for dinner. When we reached our floor, we saw this hot chick in the hall by our room. I introduced myself and my friend to her and my friend said" um, Bob, we met her yesterday" I started laughing and I said I didnt remember. Turns out she came to our room to ask us out to go to Carlos and Charlies. I looked at her and said "hell yes!" (if you want to know what she looks like, imagine fran drescher from 'the nanny') (annoying voice too) I think we had room service for dinner and about 10 p.m. we headed to c&c. There was a line outside and a doorman at the door (where else would he be?) He let us past the people waiting to get in and we went inside. It wasnt overly crowded(yet) and we ordered our drinks based on what Jules (the nanny) ordered. This girl picked the absolute worst tsting drink ever made! I quickly switched to the aruba ariba. Pretty soon the place was packed and we went out on the porch area and watched people. My friend said he wanted a crack at Jules so I told him I would make her hate me so she would talk to him for awhile. I called this chick fat and ugly and every other insult I could think of. Wouldn't you know it, she liked it. I didnt mean a single word I said to her because as a matter of fact, I really dig this chick. Anyway, my friend is getting mad at me because the plan is backfiring and he thinks I am doing it on purpose. I was at a point where I had to choose between my best friend and a piece of ass I met that day. (keep reading, you'll find out).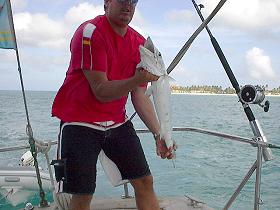 We left at about 2 a.m. and headed back to the hotel. When we got there, we didnt feel like calling it a night because my friend still wanted to get a piece of her and she wanted me and I, well I, just wanted to go swimming. (decision made) We didnt feel like going upstairs and getting our suits on and they were wondering what to do next so I just said screw it and got naked and jumped in the sea. The Wyndham has a diving pier in their swimming area and I swam to it and noticed the other two were close behind. They got up there and I am telling you Jules has one hell of a great body. She was standing right in front of me and I guess I changed my mind about her because she asked my friend to go get the rum from the table on the beach and when he left, it was on! She did this thing where... (just imagine) ..... and then my friend showed up with the rum and we finished the bottle and as the sun was coming up, it was time to call it a night.
SUNDAY
We just kinda hung out on sunday and watched football. After the early games we went down to the pool and got some sun. When I refer to us as we, I now include Jules because after the swimming last night there was no way we were going to be apart until she left. All we did is hang around the resort and get sun. (afterall it is sunday) I invited Jules up to me room to see the view at night and we did a fine job of continuing our previous fun. After we got cleaned up we headed to the casino to make a donation and called it a night.
MONDAY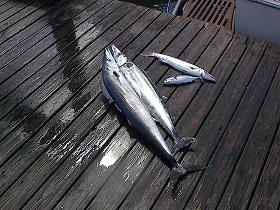 I had set up a deep sea fishing trip before I came to Aruba and it was just going to be my friend and I but I invited Jules along and a guy I met on the other bb as well. We were on the Moonray boat and our captain was Plons Richardson. ph 933939. He was a very funny man and also very nice to us when we were on the boat. We did a 1/2 day trip and caught 2 wahoo 1 tuna and 1 baracuda. It was funny, we caught the wahoo and the baracuda on a drag line and the only fish we caught on a reel was the tuna. The funny thing is Jules reeled in the tuna. She was all excited and grabbed her reel and sat in the chair, put the rod in the holder and dug in for a huge fight. she reeled and reeled and reeled and finally landed her prize. We actually thought about sending the fish to starkist tuna company but thought maybe they didnt sell 1/2 cans of tuna. It was about 6 inches long and weighed in at approx. 1/2 pound. The capt. said "isnt he cute?" We just rolled on the floor laughing!!! We headed back in and caught a taxi back to the hotel and hung out at the beach for the rest of the afternoon.
At 4 p.m. I bought massages for the 3 of us and everybody enjoyed them very much. After the massages I went to the lounge bar in the lobby and met a newly wed couple from PA. Jeff and Maury (mari) I bought them their first drink as a married couple and talked to them for quite some time. It turned out they had reservations at Blossoms just like we did so we all sat together. I invited Jules and her mom to join us and we had a ball. I ate fish for the first time ever and it wasnt bad. After dinner we went back to the bar and met Mikey from Ohio. He was a hoot! We laughed and talked like we had been friends for years. I love how easy it is to meet people in Aruba.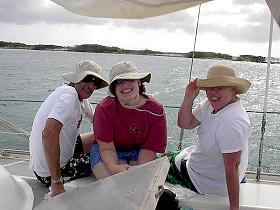 As I stated earlier, my monday was going very well with meeting new people and having a grand time. I figured it was time to go to the casino and try again. I played alot of carribean poker and roulette and ended up with about 100 bucks on the good side. Jules asked if I wanted to go swimming again so I went and got a bottle of champaign from Gilma and a couple of glasses and off to the beach we went. I talked to the security guard and told him we were going to go for a swim and we were putting our clothes and other things on a table in his line of sight so he could keep an eye on them. ( he was just sitting there doing nothing anyway). So we did that and about an hour later came back to the beach to get dressed and go inside but her bag was gone as well as my wallet. All of you who didnt like my attitude earlier are cheering right about now. I asked the guard if he saw anything and of course he said he didn't even though he was still in the same chair as before. He called his supervisor out and then the police were called. While all of this was going on I noticed that the only footprints around the table were heading back towards the guard and I pointed that out to the police but they didn't seem to care. I made a report and was told to go to the station in the morning to talk to an officer. We went upstairs and went to our rooms for the night.
TUESDAY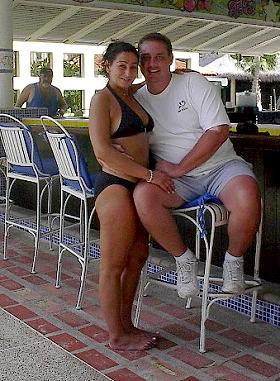 I woke up nice and early and headed straight to the police station and waited about 3 hours before they told me they would send a man over to the hotel to take the report. Iwaited awhile and when they didnt show up, I went to have breakfast and of course they showed up then and I missed them. I headed out to the Tambu bar to have a beer or twelve to calm down a little and while I was drinking the first one, Jules walked up to me and handed me my wallet which she pulled out of her bag. I aksed her how she got them back and she said they were found at the towel counter in the morning. (hmmmm right next to where the guard was sitting) After an inspection, all that was lost was the cash I won in the casino the night before. I honestly believe the guard did it but I cant prove it so I will let it go. I spent the rest of the day getting sun at the beach and drinking balashi.
That night we went to the manager's cocktail party and sat with Jeff and Maury and another newlywed couple, John and Kelly. We had a blast watching the limbo show and at the end of the party people went up on stage and introduced themselves to the crowd for a bottle of sand. All you had to do is explain why you came there. Go figure, I was the only one who was celebrating a divorce. After the party we went in by Gilma and had a few beers and I called it a night due to too much sun and too many beers. My friend won 400 dollars in the casino and that was enough fun for that day.
WEDNESDAY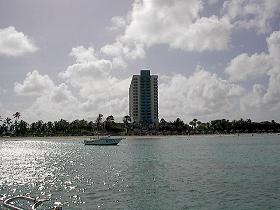 I knew this was going to be a bad day because it was get out of town day for Jules. I met her in the lobby around 1 p.m. and we said our goodbyes and I was very sad to see her go. Honestly, I missed her before she was gone. She wrote me a note that touched my heart and I helped her and her mother load their luggage and waved goodbye.
I had time to drown my sorrows in a few balashis before we headed to town to do some shopping. I bought gifts for everyone back home and even for some less fortunate kids at the under priveleged clubs here in town. You really can get some great deals if you just talk to the vendors and store owners. Took the bus back to the hotel and visited Gilma again and I thought I would try a cuban cigar while I was there. We ended up buying cigars for a few people and had the time of our lives laughing at every stupid little thing anybody said. We played a game of movie talk which involves only speaking in movie quotes and having a complete conversation by taking turns. There were 6 of us playing and it was hilarious! Had pizza from Cafe Baci and called it a night around 1 a.m.
THURSDAY
Today was a relax and get sun day. We spent the whole morning at the beach and walked around downtown in the afternoon. I found alot more bargains today and completed my shopping for Christmas. We got on the bus to come back to the hotel and about 5 minutes into the trip, the bus broke down and we had to wait for another to take its place. By the time we got back to the hotel it was close to dinner time and we just ordered room service and watched a little t.v. After dinner we headed back downstairs to see Gilma. I had a few beers and turned in early for once.
FRIDAY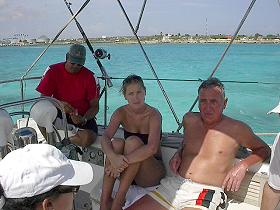 On friday we were scheduled to go on the Aruba Safari with DePalm tours. They picked us up at 830 a.m. and took us to their bus depot and assigned our jeeps and we met 2 couples. I dont remember their names but they were very nice people and we anjoyed our day with them. The tour starts out by going to the lighthouse where we were informed we could use the restrooms at the restaurant but the workers there wouldn't let us use them. There were alot of upset women over that. We took our obligitory picture and off to the chapel we went. the drive over there was very dusty and bumpy and extremely fun. After everyone took their pictures and visited the 'natural restrooms' it was off to the goldmine ruins. This was a very interesting place to be in my opinion. You can climb around the ruins and go to the shoeline and watch the waves crash. I also took this opportunity to make my contribution to the wishing rocks.
We left the ruins and the next stop was the natural bridge. I truly believe that the best 2 pictures I took on the whole trip were taken here. It was a very beautiful place for photos and scenic views. Next stop was the caves. I dont know the name of the cave we were in but the path was rather short and there wasn't much to see. I took pictures of the drawings on the ceiling and a couple of blind shots into the dark. After the caves we went to DePalm island for a 2 1/2 hour lunch break. It was all inclusive for food, drinks, and snorkeling. We saw a couple of topless sunbathers but the real treat was the snorkeling. I snorkeled with the tranquillo and saw fish but at this island I saw HUGE fish and lots of them. It was very fun and also seemed to go by very quickly. At 430 p.m. we got back in our jeeps and headed back to town for the end of the trip. We were bussed back to our hotels and it was an awesome day! price tag: $69 pp. Dinner at El Gaucho 7p.m.( check restaurant review) After dinner we went back to see Gilma and smoked more cigars and I ordered a pizza to take to the room.(you'll know why when you ar ad the review).
SATURDAY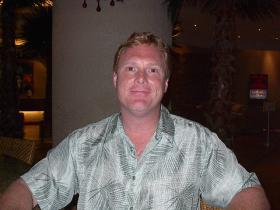 On saturday I got up early and went to the pool for my last full day of sun. I found a spot that when the wind blew hard enough, it sprayed water from the fountains on me to cool off. I sat in the sun all morning and at 1 p.m. I got a temporary tattoo of the word 'ARUBA" on my leg. When it washes off, I will have the word tanned into my leg. We went into town one last time to pick up a couple of things my friend wanted and on the way back, we stopped at adventure golf to play 18 holes. It may be the largest mini golf course but it is very lame. Easy holes and basically each hole is the same as the previous one. After golf we stopped at Blossoms restaurant and ordered chinese food for dinner. I had the green pepper steak and it was delicious. I said my goodbyes to the staff that would be off on sunday and went upstairs to pack for getaway day.
SUNDAY
I woke up around 8 a.m. and had breakfast. I then went back upstairs to hang out and watch the news on t.v. and was ready to leave at noon. Our plane left on time and there were no problems getting home.
EXTRA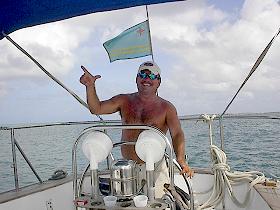 A special thank you goes out to everybody on the bb who was involved in the thread titled 'trade with natives'. I brought 15 big chocolate bars , 70 gold dollars, a Kansas City Chiefs jersey and a Kansas City Chiefs polo shirt with me to give away.
The chocolate went to bartenders and pool concierge people and our wonderful housekeeper. The gold dollars went as tips to everybody that drove us anywhere and served us drinks and to a few special people who made my vacation a little more special.
The shirts went to Tony, a beach concierge, that really went the extra mile for me every day. He also returned the favor and bought me two shirts to take home with me.
As for the Wyndham itself; the beach was very windy and you did get sandblasted every day but I think that is normal and to be expected. Also, the elevator problem should be solved by dec. 15th. There were 3 elevators working perfectly while we were there and they are building the 4th from scratch right now. They made improvements by adding a revolving door in the lower lobby and are finishing up some cosmetic stuff in the main lobby as well.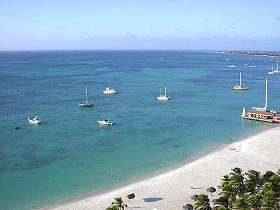 Since my first half of this report apparantly offended some people I chose to exclude some of the more risque happenings from the final 6 days. All I will say is I highly recommend the massage! nuff said.
Thank you to the Wyndham and all of the staff and I will see you in May.