Divi Aruba Beach Resort
October 20-27, 2002 by Barbara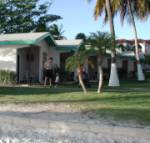 Saturday:
The 10 passenger stretch limo arrived at our house at 3:00 am to transfer us to Logan International for a 7:15 am flight. There were a total of 13 of us traveling together (4 families) so we took 2 limos to Logan. Check-in at the airport, even with increased security and new restrictions, was a breeze. We booked our trip through GWV and the airline was North American. Their fleet of planes consists of new 757's and was great. Our flight was late departing, which meant we arrived in Aruba an hour later than expected. Going through the airport in Aruba was pretty much uneventful. We gate-checked a baby carriage and car seat at Logan and couldn't find them at the Aruba airport. Trying to hold a 20-month-old toddler who had been sitting for almost 5 hours was pretty tough. I found a North American representative who pointed to an area where they had been holding my gate-checked items. We loaded the baby into the carriage and we were off.
Due to our short delay at the airport searching for our carriage, we were the only passengers on the DePalm transfer bus to the Divi Aruba Beach Resort, which meant that we did not have to worry about having to stop at the Bushiri and the Tam before heading to our hotel. Icy cold Aruba Aribas were handed to us almost as soon as we entered the lobby and headed towards the front desk for check-in—Yummy! The lines weren't too bad and within minutes we had our key cards and room safe locks in hand. Although I had emailed Lisa Cusson and requested a room in the Vista I building, ground floor facing the pool, I was delighted to find that she upgraded our entire party to Casita rooms, mere steps from the sandy beach and balmy Caribbean sea. Ahhhhh… It doesn't get better than that!
The rest of the day was spent unpacking, falling in love with our surroundings, eating and drinking, and then dancing the night away near the Pelican bar.
Sunday:
GWV had scheduled an orientation meeting for 9:30 at the Aruba Grand, which we all decided to attend. We were picked up by the Banana Bus and enjoyed the party bus experience of loud music, the wind blowing through the open windows as we sped from hotel to hotel, collecting other GWV tourists and shook maracas. What an experience for the kids, who otherwise would not get this opportunity until they reach drinking age. We were provided a continental breakfast and were able to speak to representatives from several activity companies, as well as given raffle tickets for discounts and freebies. Collectively we won Snuba for one at DePalm Island, gift certificates to Intermezzo Day Spa, The Old Cunucu House, Twinkletones, and a couple of t-shirts. We met Gary Dee, one of the stars of the show "Shhh don't tell Mama" and he chatted with my kids for a while before going back stage to get his bright yellow boa to show my eight-year old how much he can look like big bird. What a great guy he is. Unfortunately my husband and I didn't get to go to the show, but all of the other adults traveling with us did and they thoroughly enjoyed it. I guess there's always next time.
After leaving the orientation meeting, we went back to the Divi and the four girls and I got our hair braided. That was fun. When that was finished, the kids went swimming.
Sunday night was Mexican Theme Night so we went to dinner at the Pelican Terrace for Mexican food. We were entertained with Mexican music followed by dancing to music by a DJ.
Monday: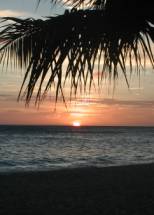 Our friends and their kids went on an ATV tour, my husband Chuck and brother-in-law Mike went golfing at Tierra del Sol so it was a nice day of swimming in the pool for my girls and chasing my son around for my sister Pat and I. Now, my little guy Zachary is probably one of the friendliest little boys you will ever meet. He greeted everyone that walked by him and soon made many adult friends. He kicked a small soft soccer ball around the grounds in front of our casita and had people kicking the ball back to him before too long. By late afternoon everyone was back and it was time for Pat and I to get ready to go out with our husbands.
We had booked the Kukoo Kunuku and were really looking forward to it. The bus picked us up around 5:40 and we were off. Chuck and I had done the Kukoo bus 3 years ago and we really enjoyed it. To my surprise, it was a bit different this time around. There are now 2 buses doing the party tour and they don't go to the same place to begin with, but end up together over the course of the night. We started this night out with a champagne toast at some unknown beach just past the airport (instead of the California Lighthouse), then dinner at Laguna Pier. That was a fun place! Several of us women were guided to the bar to dance on it after dinner. Very unlike me, but I did it nonetheless.
Time for stop number 3, a little place called La Ronda, where we hooked up with the other bus. We danced, drank and they sold Kukoo Kunuku cds, t-shirts, hats, etc. We loaded up on all of the Kukoo Kunuku offerings, and a few drinks each. Then it was off to U Wanna Beer for more drinking and dancing. This place was very tiny so we spent most of the time outside watching what was going on indoors and chatting with the others who felt crushed indoors. After that it was off to Carlos & Charlie's. That place is wild! My husband was getting a bit tired by then so we didn't enjoy it as much as I know we could have… again, there's always next time!
Tuesday: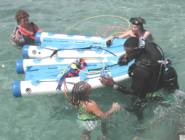 My girls did Snuba at DePalm Island, while I watched nervously, Pat & Mike snorkled, and Chuck chased Zachary around. I really had little reason to be worried about them – the wonderful instructor, Randy spoke to me after the pre-dive orientation and basic instructions and said that he would take the girls out after a few other groups so that he could give them special attention. It made me feel a lot calmer. Fire coral stung my youngest daughter, Alyssa, before she went out, but I wasn't even aware of it until she got out of the water – almost an hour later. After she told me about it, I was incredibly proud of her for sticking it out and doing the Snuba dive despite being stung. She's a trooper! They went approximately 7 to 10 feet underwater, and they loved it. A staff member who referred to himself as the doctor, washed the areas of her stings with peroxide, sprayed vinegar to relieve the stinging and finished it off with a first aid cream. Within an hour it had almost disappeared. We ate lunch and then took the ferry back to the pier, boarded the DePalm bus and went back to the Divi. The rest of the day was spent swimming in the pools for the girls, and floating around in the Caribbean for Zack and the adults.
Tuesday night at the Divi, there was a market of artisans selling crafts, clothing, and other items. The other 3 couples went to the "Shhh Don't Tell Mama" show so all of the kids hung out with my husband and I. We ate dinner and then took in the Carnival night activities, followed by dancing to music played by the resident DJ. Another fun evening.
Wednesday:

My husband and our friend Dave went on a half-day deep fishing tournament. The rest of us went into Oranjestad for shopping. Not the best of days… while I was trying on a swimsuit in a store near the Sonesta Suits, my 11-year-old daughter Ashley picked up a shiny blue case thinking it was makeup and found a broken pair of reading glasses. A woman approached her and asked if she needed help. I have always taught my kids to be honest and she told the woman that the glasses were broken. The woman brought the damaged goods to the register and informed the clerk "this girl broke these glasses". When I came out of the changing room, my daughter stood there with tear filled eyes, near hysteria proclaiming her innocence. I had no idea what was going on, but I do know my daughter. She can't lie, I read her too well. Had she been guilty of anything, I would have encountered a deer-in-the-headlights look in her face – eyes the size of the moon shaking her head from side to side saying she didn't do it. This was not the case. Now I am a realist and I know that kids don't always tell the truth. But I can tell the difference with this kid when I'm not hearing the real deal. While I was speaking to the clerk behind the counter, a woman tapped me on the shoulder and said "Ma 'am, I saw her. She forced the glasses into the case and broke them." At this point, I thought that she was an American tourist and I doubted my ability to read my daughter. I reluctantly paid $28 USD for the most ugly pair of glasses you could imagine. The clerk went to take the glasses back and I told her that I paid for them and would take them. I really had an uneasy feeling about it all. After that, the woman who I thought was an American tourist came back and said, "I watch people in the store and saw the little girl break the glasses." When we walked out of the store, Ashley told me that that woman was the one that brought the glasses to the counter. I honestly feel that I was scammed. I didn't lose any sleep over it, but if you are traveling with kids, keep a very good eye on them. I believe Ashley didn't break the glasses, but I couldn't prove anything. For those of you that are thinking that I am just in denial, I normally don't take her side. The girl has a horrible poker face and she just can't lie.
We visited with Tessa the Tiger then off to lunch at the Paddock for hamburgers and cheeseburgers. It was a good lunch.
Back to the Divi for floating and swimming.
We ate dinner at Paparazzi, which was okay.

Wednesday night was Mystic Night at the Divi. Don't miss this show! If you are squeamish at all, you may not like it – our kids watched most of the show from between their fingers ;-) There was a belly dancer, a man that does the most unbelievable things with steel rods, spike-like nails and a sword (I'm not gonna tell!) I will say there is fire eating and fire throwing. It's a very exciting show!
Thursday:
The day started out very cloudy and raining. Mike & Pat, my girls and I went on a half day Eco-Adventure Land Rover Safari with DePalm Tours. Our guide France was funny and very knowledgeable. We went to Casibari Rock Formation, Bushiribana Gold Mine Ruins, Natural Bridge, Black Stone shoreline, and the Alta Vista Chapel. It was a lot of fun, and thankfully the sun stayed behind clouds long enough so that none of us got baked. I had gone on a jeep safari 3 years ago, but this the exception of the Natural Bridge, these were all different places. One word of advice, if you go to the Natural Bridge, bring change! You will need $.50 to use the restrooms and we saw people who weren't prepared for that.
The afternoon was spent, you guessed it – swimming and floating. I can get used to this!
We ate dinner at the Red Parrot, which was pretty good.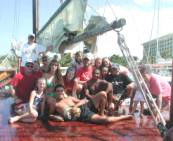 Thursday night was another craft market so we did a little shopping, then it was fun and games theme night. It was mostly for honeymooners, but Chuck got pulled into the fun. The usual team sports – passing objects without the use of hands. It was pretty funny. My husband had been undergoing treatment for cancer over the last year and it was great to see him smiling, laughing and having fun. I think the kids got a kick out of seeing a different side of him as well. Dancing the night away came later.
Friday:
We all booked Jolly Pirates' Sail, Snorkel, Swim & Swing cruise for the day. This was a blast. Zack wasn't in the best of moods, but after he took a nice little snooze, he was ready to party. They have the best crew. Captain Nino was very fun. Andres kept the drinks coming and the rest of the gang (sorry I don't remember the names) entertained us with acrobatic acts from the masts, diving off the sides of the ship and then climbing back onboard to the surprise of many. Having a toddler on board meant that Chuck and I spent most of the cruise under the tarp, but the rest of our party sunned themselves on the deck. They all enjoyed snorkeling at Boca Catalina, Malmok, and the Antilla wreck. Then it was time for lunch and the rope swing. Our friends Dave, Laura and Steve were among the first to attempt this. Then my 8-year-old took the swing. After watching her and the rest of the gang do it, I decided to give it a try. It was fantastic! The crew had to stop my daughter, after she did it about 2 dozen times. Our friend Kellie was celebrating her birthday that day so we sang happy birthday to her, then it was nearing 2:00 so it was time to go back to Palm Pier. Another great day!
We all went back to the Divi, grabbed our drink of the day and headed back to our casitas. Time to float around again. We ate dinner at the Pelican Terrace and had a cake brought in for Kellie. We sang happy birthday again and then the kids headed to the Pelican bar to get some good seats for the Limbo show at 8:00 pm. The show was very good and the kids got to be a part of it. They all got Divi t-shirts for being involved. The band played for a while, followed by the DJ. Another night of dancing and fun.
Saturday:
All good things must come to an end. Time to pack and go home. Alyssa cried and we were all pretty bummed out. Check-out for us was 10:00 am and the DePalm airport transport bus picked us up at around 10:15.
The security at the airport was intense. Yes, the carry-on restrictions are a bit much, but there are ways around it. If you DO NOT want to place your expensive cameras and electronics in your checked baggage, you can have them put in a bag, which will be placed in a box and returned to you after the flight lands. I didn't know that and actually would have preferred to do it, but I had reluctantly placed my $900 digital camera in my suitcase. Alyssa's backpack was searched, as the security personnel thought they saw a lighter in the x-ray. There wasn't anything there, so they decided to search my carry-on items. Again, there was nothing so we were allowed to continue on.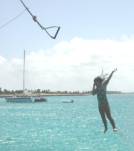 I think there were 2 other checkpoints, and then it was time to sit and wait to board. Again, our flight was an hour late departing. An uneventful flight and landing in Boston. I was anxious to check my suitcase for my digi-cam and was relieved to see that it was still there and nothing had happened to it.
We found our limo and headed home, all the way discussing our next trip to paradise.
It was a great trip; we all loved the Divi and will stay there again. The staff was all very friendly. The drinks were strong and the food wasn't bad. The theme shows were very entertaining and fun. I would highly recommend the Divi to anyone. Can't wait to go back!
Barb!