Marriott's Aruba Ocean Club
June 22 - 29, 2002 by Art & Marilyn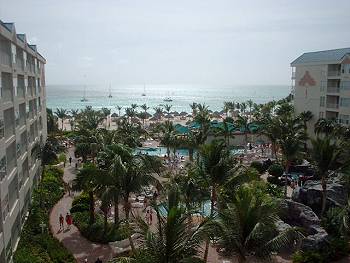 We stayed at Marriott's Ocean Club time-share, which is next door to Marriott's Aruba Resort/Hotel. We had a corner unit on the fifth floor, facing the ocean. It was nice to have the ocean view, but, because we were in a corner unit, the second bedroom and bathroom were scrunched smaller, width-wise. On the other hand, we could have been assigned an outside unit that faces the construction of a new Marriott time-share that is under construction. (First picture is from our condo unit.) The biggest complaint we had about the Ocean Club is the lack of a washer and dryer in the unit. Instead, guests had to share two washer/dryer units on each floor. That was a big problem if you wanted to do a load of towels or clothes and go to the beach. You had to wait for the load to be finished with both washing and drying before you could leave the building.
The WIND was much stronger and consistent that we anticipated. Thank goodness most of the hotels have permanent grass umbrellas/huts on the beach, as anything else would get blown away. Marriott has a few umbrellas around the pool, but people would "claim" those spots early in the morning by putting their towels under those umbrellas. In our opinion, this is a rather unfair practice. The beaches were great with fine white sand but the shallow water near the beach had squishy and slippery areas every so often under the water. The water was not as warm as we have experienced on past trips to Hilton Head Island.
There is a great selection of restaurants on Aruba. Some are quite expensive and others are very reasonable. Restaurants we ate at: The Promenade, Iguana Joe's, Amazonia, Chez Matilde, Old Cunucu House, Flying Fishbone, Plaza Café at Seaport Plaza, and La Trattoria by the California Lighthouse. We thought we got good value and food at all them, except at La Trattoria. One way to save on food is to attend a Marriott Time-share sales presentation. For attending the sales pitch, they give you four $25 certificates that you can use in the more expensive restaurants. (Second picture is from Flying Fishbone.)
Jewelry/shopping: We purchased a nice woman's tanzanite ring from Sean Jewelers in downtown Oranjestad. We dealt with Ash B. who is a cousin of the owners. They also own Paul and Twin Jewelry stores. Ash was very patient and gave us a very good price. Of course, the "retail" prices they have marked on the jewelry are very subject to negotiation.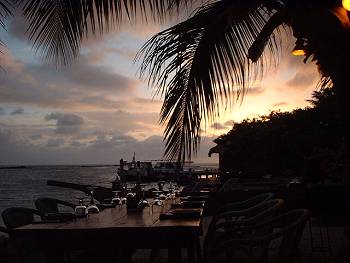 We rented a Toyota Camry through Dollar Rental for the week, as we traveled and stayed with relatives at the timeshare. If it had just been two of us, we probably would have rented a Chevy Tracker or similar 4x4 vehicle. But, with the Camry, we had air conditioning and enough room for all four of us.
Snorkeling: You can save a lot of money by renting the equipment ($15/day??) and driving to the snorkeling area which is located on the way to the California lighthouse. We chose to rent jet skis instead for $50/half hour. They were very powerful machines and we got very wet!!
Return to Aruba? Probably not - unless we do it on a cruise ship. The island is too small and we were kind of bored after the third day since we are not casino people. We did enjoy the restaurants and there is a couple more we would have like to have tried…but we saved them for when we return on a cruise.
The people of Aruba were very friendly to us and we especially enjoyed the diversity of the population.