La Cabana Beach Resort
November 3-10, 2001 by ~Amy~® and Mike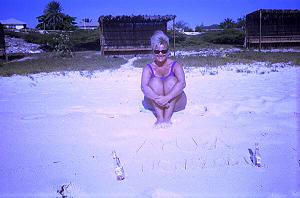 NOTE:
This was our 2nd trip to Aruba within the same year so we did not plan on many activities - you will notice that all we did was enjoy the beach and the food and that was our intention!
This is our 7th trip to Aruba and once again we used Sun Country Airlines that flies from Minneapolis to Detroit and then onto Aruba. In the past, we normally spend about 30-45 minutes in the Detroit airport - just get off the plane, stretch our legs and get back on the exact same plane. This year was a little different with all of the heightened security. They informed us that we would be getting off the plane in Detroit, going to baggage claim to re-claim our luggage, and then checking back in again - all within 30 minutes - whew! While we were waiting for our bags in Detroit an airline representative informed all of us with carry-ons that there would be no carry-on luggage allowed for the Detroit to Aruba leg and that we will have to check EVERYTHING. I had my jewelry in my carry-on which does not have a lock so I pulled my jewelry pouch out of my carry-on along with a book and stuck those in my jacket pockets. Then we had to go through security all over again at the Detroit airport, too, and some people were told to even take their shoes off and put them on the x-ray machine belt. It seemed like a very long flight after everything we went through. As of January 2002, Sun Country Airlines will start a direct flight from Minneapolis to Aruba and I cannot wait to take that one next year!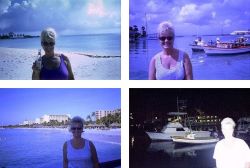 We finally arrived into Aruba at 5:30pm on Saturday (right on time), collected our luggage, and proceeded across the street to pick up our rental car at Jansen Car Rental. Unfortunately, they didn't have the car that we had reserved so they gave us a mini-van to use for the day and then they would come to our hotel the next day and switch cars with us. Seemed weird to have this huge mini-van for just my husband and I. We then drove to La Cabana and checked into our rented timeshare unit within 10 minutes. Noticed that La Cabana has all new furniture in their timeshare units and it's very nice-looking - plus they now have a convection oven which replaced the old microwave. After unpacking a few items, we got back in the mini-van and went to the Certified grocery store to pick up supplies (wine, champagne, beer, pop, spaghetti, sandwich items, bread, eggs, etc.) for the week. Got back to La Cabana and since we had a couple of hours to kill before our 9:30pm reservation at Gasparito we went to the bar at the pool and a had a couple of drinks (Balashi for Mike and I tried a Brown Lady this year - great drink!)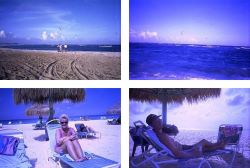 Then off to Gasparito for dinner - we always start our Aruba trips with Gasparito first since it's our favorite restaurant. We split an appetizer of ravioli stuffed with shredded barracuda in a red bell pepper sauce and for entrees got the seafood Keshi Yena and I got the Wahoo broiled in lemon along with a nice bottle of wine. We talked a bit to Henry, our waiter, who we see every year, and he found out that it was Mike's birthday this month so he surprised us with a dessert of turtle cheesecake and a candle and sang Happy Birthday. We definitely were already too full for dessert but it was delicious and we couldn't stop ourselves from eating it!
Sunday: Just as promised, a rep from Jansen Car Rental was at our hotel right away in the morning to switch vehicles with us - only took a couple of minutes. Then had our usual breakfast on the patio and we were joined by a stray cat who seemed to enjoy our company (and our food - of course, I fed her!) She ended up joining us for every breakfast on the patio throughout the week. The routine would be the same every morning - she'd be sitting by our door every morning waiting for her breakfast, too, and then she would sleep at our feet while we read the daily Aruba Today newspaper. She also joined us a couple of times for dinner at night when we grilled out - yes, she also got a couple bites of my steak.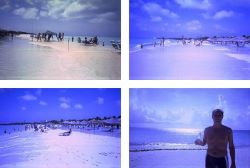 After breakfast, we spent the entire day at Eagle Beach in front of La Cabana just enjoying the water, the sun, and the Polar beer. Sunday night we had dinner at Que Pasa downtown and it was just as good as I remember from this past April - we had the Wahoo and the pork tenderloin.
Monday: We packed the cooler and headed to the Barcadera to buy our fresh shrimp from the fishermen. Got there at about 9am and spoke to a few other Americans who had been there since 7am waiting for the shrimp. They finally opened the gates at around 10am and we were able to get our shrimp but the prices have gone up - this time we paid $17 per kilo with heads (we priced it in the grocery store later in the week and it was the exact same price.) It just seems like more of a hassle now to get shrimp compared to when you could purchase it at the docks downtown at any time. I think next year we'll buy from the grocery store and see if the quality is the same. After getting our shrimp we headed to Rodgers Beach which is not too far from Baby Beach. We had the entire beach to ourselves and the water was warm and calm. We brought lunch and a few Polars for our beach picnic. Stopped at Charlie's Bar in San Nicholas on the way back for a couple of Balashis and also went to the Kokoa Bar on Palm Beach for a couple of Amstel Brights. For dinner Monday night we cooked spaghetti along with a good bottle of Chilean wine and ate on the patio (with "our cat".)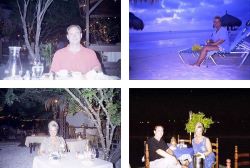 Tuesday: Got a hut on Eagle Beach for the day and noticed right away that the waves seemed HUGE! Apparently, this was from the effects of Hurricane Michelle in the Caribbean. We had a hut in the 2nd row and soon the waves were coming up so high that they flooded out the 1st row of huts and also completely flooded the beach in front of Paradise Beach Villas. It was a lot of fun to watch but I'm glad the water was back to normal the following day. We finally went to the pool for the rest of the afternoon. La Cabana also remodeled their pool area with a lot of rock formations, waterfalls, and a new slide. It looks much more inviting and cozy now. Tuesday night for dinner was champagne, shrimp cocktail, Gouda cheese, and crackers on the beach at sunset. Then we sat out on our patio and drank Amstel Brights along with a bag of microwave popcorn (very relaxing - and yes, "our cat" joined us again.)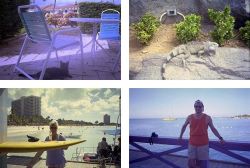 Wednesday: Another beach day. At night we went to the restaurant at the lighthouse to watch the sunset - just sat at the bar and had a couple of glasses of wine and calamari. Still had some time to kill before our dinner reservations at Madame Janette's so we stopped off at the Pirate's Nest at the Bucuti for another glass of wine and walked around the resort a bit to see if we'd be interested in staying there in the future. Dinner was at Madame Janette's. This was the only restaurant you needed reservations for because they were already booked from 7pm-8pm so we made an 8:30 reservation and still had to wait for our table. Our dinner was excellent: spicy crab cakes for an appetizer followed by entrées of a filet mignon and Mike got the surf and turf which included the filet, lobster tail, and shrimp. The atmosphere was again wonderful with live music from someone playing the guitar and singing in the background.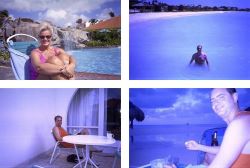 Thursday: Spent the morning downtown doing some souvenir shopping (had to get my annual Aruba calendar for 2002) then went to Rodger's Beach in the afternoon. Once again, had the entire beach to ourselves. This time for lunch we walked over to Coco Beach which is a small restaurant/bar right next to Rodger's Beach - had a few Balashis, chicken sate and BBQ ribs. Then back to the beach for more swimming and more Amstel Brights that we had brought with us. After we got our fill, we drove over to Baby Beach and then just as we were headed back we noticed some kites in the air near Bachelor's Beach so we drove over and there were about 10 guys in the water doing kite-surfing. It was incredible - sometimes when they'd hit a wave, the kite would pull them about 15 to 20 feet out of the water and they would just hang there suspended for a few minutes. We sat and watched them from the beach for about a half hour and there were a couple of guys there filming it, too. For dinner tonight, we grilled out steak kabobs and ate on the patio along with another nice bottle of Chilean wine and…..you guessed it, "our cat" (I tried to think of a clever Aruba name for our cat all week but couldn't come up with one - any ideas?)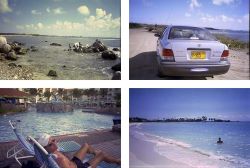 Friday: Since this was our last full day I wanted to just spend it on Eagle Beach reading a good book and drinking Amstel Brights - so that's exactly what we did. At around 3pm a bunch of people from Carnival Cruises (it was printed on their towels) invaded our beach and were trying to use the chairs and huts - they kept asking how much the chairs were so I guess they knew they had to pay something to be able to use them. Luckily, we were ready to call it a day at that point anyway and went in for an afternoon siesta. Dinner Friday night was at a restaurant we'd never been to before called Marina Pirata which is located not too far past the Balashi Brewery. Found the directions in the Aruba Today newspaper along with an ad for a free bottle of wine with dinner. We LOVED this place! It is mostly seafood and the prices were very reasonable. Great ambiance as you sat on the pier over the water with tiki torches all around. The service was also great and we will definitely be back to this place next year.
Saturday: We had a lot of time to kill before our 6:30pm flight although we would need to be at the airport by 3:30pm. After our last breakfast with "our cat" (hope someone will feed her as well as we did all week), we spent the morning at the pool. We checked out at noon and then headed over to the Kokoa Bar on Palm Beach for lunch. It seemed very quiet at the bar - we talked to the bartender and he said that even though it's off-season it is still quieter than normal for this time of year. So we had our last few Amstel Brights at the Kokoa until next year……..trip #8 (looking forward to it already!)