Holiday Inn, First Trip
Feb 4-11 2001 by Marc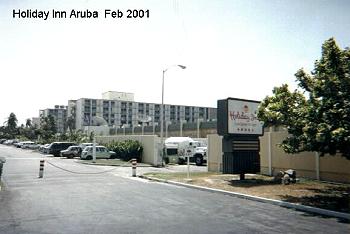 (I am writing this in a Diary Format and still under the influence of a Virus I got on the last day when I landed at Pearson in Toronto on Monday Feb 11th 2001. We didn't see much of the Island as our primary purpose of the journey was to Metal Detect the 7 Mile Palm Beach)
Feb 4 2001, Cold Winter Day
Left Ottawa Canjet 9:25 AM, first flight in many years, nasty takeoff, some turbulence-50 minutes to Toronto, light snow in Toronto, landing easier than takeoff. 3 hours at until departure for Aruba. Canada 3000 late boarding-trip smooth, two in-flight movies "Meet the Parents" & "Charlie*s Angels" -too keyed up to watch them. Headphones $5.00. Alright not smoking for 5 hours. Landed in Oranjestad, hit bad headwind before landing. Immigration very slow, long lineups, luggage carrousel very slow. Grabbed wrong bag and headed out before returning luggage and collecting correct bag. First thing noticed very humid outside and very windy. A bit of confusion of which truck to load baggage on, upset many. One shuttle bus(big coach) for each hotel destination. Didn't see much of Aruba as it was dark. Arrived at Holiday Inn at 10:05PM at open air lobby for check in Located in the Bonair Tower 6th Floor overlooking the roof of the casino(some oceanfront view!!), given refreshments and all inclusive wrist bands. Only 5 minutes left at Bar Iguana for late supper, closes everyday at 10:30PM. No main courses left , only desserts . Had first ever Virgin Strawberry Daiquiri(had them throughout stay). Was still too keyed up from journey and went to Excelsior casino at Holiday Inn and lost $200 of my $300 spending money for week, a big disappointment which left me short for the rest of the week! Dumb !! An awful looking casino, dank and dumpy much need of improvements. Lack of ashtrays and slow service.
Monday Feb 5 2001,Partly Cloudy & Windy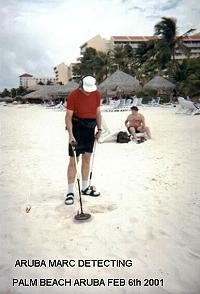 Up at 7AM, breakfast at Broadwalk Café, Scram belled eggs and French toast cold. Did not have made to order omelette, coffee warm and somewhat tasty. Detected Holiday Inn Beach most of the day. 45 Sunblock, no burn. Nickels, nickels everywhere and few Aruba Florins, no jewellery. My friend Phil found similar first day. He was hunting in the water with his water metal detector, I was primarily doing the beach as my unit did not work well near water, too much interference from metals or salt. Dinner at SeaBreeze-Yucky!! Burgers and Hot Dogs awful- there was a wild scrawny pussycat walking around, gave him piece of my burger, he *stuck* his nose up to it and walked away!!
The same day ran into Carol from this board briefly on the beach, but she didn't chat long and went on her way. The same day a fellow was waiting on a conduit on the beach, it turned out to be Johnny from Scotland the pharmacist also from this board. We met later for extended periods of time and at our small BB gathering at the Bar Iguana on the 7th. That evening the food was great at Bar Iguana, a ribs etc buffet. I noticed no bugs at all, so no need for bug spray as I thought I would need. Leave it at home!!
I was constantly using SPF 45 for the first few days and remained "white as a ghost". That evening Phil and I decided to take a long walk from point A to B of Palm Beach. We started at the Marriot and ended up at the Phoenix. I took my shoes off and walked in the surf all the way down the beach, the water I found was warmer than the daytime. **Note overall the water during the daytime was colder and not many swimmers ventured in during the day, I later found out from a Cuban tourist who had visited the Island on a few occasions that, the best time to come to Aruba is between May and August as the currents are warmer and more ideal for swimmers. Also at this time the water was "murky" again due to currents and jet skis and boats churning up the water. Phil ventured into the water to detect and ended up in bed with bronchitis, he should have used a wetsuit to protect him from the cold. Also the beach was always deserted at night, which made for a surreal walk with Orion's Belt in the sky and distant freighters in the sea, calm waves. A very peaceful setting, a nice picture in one's mind to remember fondly as I live in a city and the bright lights obscure the night sky. All the Palm and coconut trees had a sheet of metal half way up, I inquired into what this was for and it turned out to be to keep the "Iguanas" from climbing them. Also we were told that the reason there are barely any sharks on this side of the beach is that the authorities "feed them" on the other side of the island to discourage them from coming to the Palm Beach side. I do not know if this is true or not? This is what I was told by someone.
The Marriott had a nice small casino with three Yahtzee .5 cent machines and a few penny slots as well, much more cleaner than the dumpy Excelsior Casino at the Holiday Inn. After completing the walk along the beach, Phil and I decided to walk back along the road to the Holiday Inn, we ran into a wild female dog who followed us most of the way back.. Went to bed at 2AM.
Tuesday Feb 6th 2001, Cooler Partly Cloudy & Windy
Up at 7AM 6 hours Sleep. Breakfast at Boardwalk, better today. Detected beach at Placa Linda Resort. Found best find of the trip 14kt gold 6.3 grams Religious Medal near Pelican Pier, no chain. Phil found two rings, cheapie rings in water in swimming area. Also more US change. Had much needed cat nap in the afternoon after lunch at Boardwalk. Heard rumour of lost $12,000 Cartier watch near Holiday Inn, searched area no luck! Met two guys brothers from Oklahoma(red necks), one a plumber the other on disability, young wealthy Americans. Hung out with one of the brothers that evening; Scott. We sat on the beach and experienced the first rain period briefly and looked at the beautiful stars and chatted on the deserted beach till 2AM.
Wed Feb 7th 2001, Windy and Partly Cloudy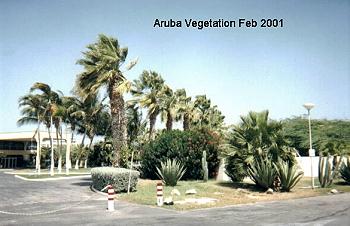 Slept till 11AM, Phil hunted Placa Linda Beach, one more cheapie ring located in water. I went to town and saw all the Jewellery Stores, tried to sell my Medal, no one was buying Gold just selling it. Only $5 per gram. Saw lots of beautiful South Americans, dark skinned. Very expensive stores everywhere, walked around. Phil purchased some ice cream from a vendor $2 US for one scoop across from a MacDonald's near boat pier area. Two cruise ships in and two military ships. We took entrepreneurial ride in a van with this Aruban, nutsy driver!!! scarey!!. Took the regular bus back to the Hotel on the way back.
Only 3 showed up at BB Party at Bar Iguana; Judith husband Peter and myself..oh well met a couple anyway. Chatted for a while and then retired early.
Thursday Feb 8th 2001, Windy and Partly Cloudy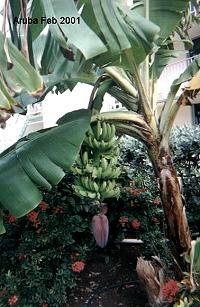 Up at 9AM detected with Phil Marriot Hotel Beach and swimming area with Phil. Beach area to wide and new, very few people, no significant finds. Ate at Boardwalk nothing spectacular for lunch either, starting to feel like Retirement Home Food, same food daily "cold to warm" with musac blarring in the background!! Phil became ill and stayed in bed rest of day. Had a few offers from locals to buy my machine, hung around Lobby bar drinking Strawberry Daquiris. Went over to Marriott Casino in the evening and won $27 US on .1 cent Slot Machine. Walked beach late at night again and went to bed at 2:30AM
Friday Feb 9th 2001, Cool rain on and off all day & windy
Up at 10AM breakfast at boardwalk, Phil feeling a little better, he went to the Marriott and hunted the swimming area by himself, I joined him later and we walked past Marriott to wear old hotel once stood and old craft stalls were. This area also had winsurfing booths set up for young and old.. Pretty trashy, no luck but best area for finding many seashells. Phil went back to Marriott beach, I went back to Holiday Inn and took a nap, Phil had on his mind and said to mke earlier in the day that "today he would find GOLD!" and believe it or not he did "find GOLD" that day!, a beautiful Men's 18KT Wedding Ring with the inscription 'Finita' on it and a date ** ** **. If anyone here knows the correct date it could be yours??, the following day we went to the Marriott Hotel and tried unsuccessfully to search for the name in Hotel Records on their computer, but it turned out that the word "Finita" means "To-The-End" in Italian.
Saturday Feb 10th 2001, Windy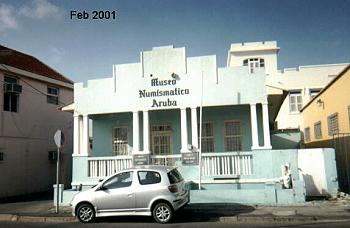 Stayed around Hotel today and hunted beach in front of Holiday Inn, Phil sick in bed with bronchitis, too much water hunting without "wetsuit". Dinner at Iguana like most previous nights and bed early Phil and I "gridded off beach" in hiopes of finding "lost Cartier Watch" then the rain hit. Gave up went to bed.
Sunday Feb 11th 2001, Last Day nice and sunny a few clouds and ofcouse windy
Up at 9Am Breakfast and lunch at Boardwalk, packing saying goodbye to Hotel Staff. A liitle more detecting on Holiday Inn Beach and then down to Allegro Beach, not much of anything. De Palm tours picks us up at 6PM airport by 6:30PM Canada 3000 prepaid seats not available, plane departs 1 hour late., got decent seat from some shuffling from Stewardess. In Toronto by 3:30AM two hours late.......sick in infirmary, freezing outside when landed. Gravol and Immodium off to short stay at Toronto Budget Hotel, sick all night. Canjet back to Ottawa at 11AM.
Holiday Inn Overview: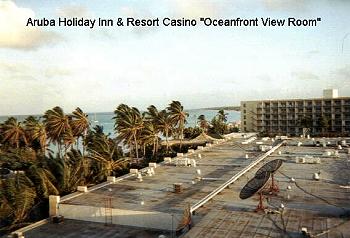 Despite being sick all week, Aruba was a lovely island, we did not find many treasures metal detecting, but the Island is a Treasure in itself, expensive though. The Holiday Inn needs many improvements. Our room was OK thought the view was more of the hotel roof than the ocean and the casino needs desperate repair, the staff were friendly and the cleaning staff great, the food needs much improvement. The air conditioner was fine, though the room was muggy and damp, they need to install dehumidifies!, there are no screens on the balconies but there were patio chairs. No bugs entered our rooms(very few to none on the Island- probably due to the winds! and it is advised to turn off the airconditioner from time to time and leave the balcony door opened ajar or you may end up with bronchitis!! The water was warm not hot, there was no cold water, each floor was equipped with a pop machine and ice machine. The staff were great especially Sophia at the Lobby bar and at this moment can't recall the others! But they were fine too!! Will we go back?? I doubt it, life is too short and we want to explore other Islands and their beaches, especially Grand Cayman and Antigua, but I have nothing against Aruba, it was a nice experience...and a free trip!! I will always treasure that experience of walking Palm Beach at night!!! Thanks!!