Radisson Aruba Resort, Casino & Spa
March 6-13, 2001 by Lisa & Jerry
website www.arubabound.com
Planning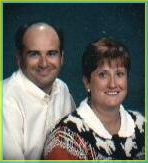 My in-laws travel on Continental Airlines frequent flier miles so only needed to book a room. In December I put them in touch with MCM Tours. Amy took care of booking their room. After seeing the photos of the Bonaire Suite from our stay at the Radisson Aruba Caribbean Resort in September, they knew that that was where they wanted to stay. Usually staying in a timeshare they like the advantage of being able to spread out a little and relax in a living room, rather than just hanging out in a hotel room.
At Christmas my in-laws invited us to go along with them on this trip to Aruba in March. We had already used frequent flier miles for 2 tickets to Aruba this coming September for another stay at the Radisson. With the gift of a weeks stay in Aruba, we changed our tickets so that we could meet Jerry's parents in paradise. Again, Amy and Phil at MCM Tours took care of booking our room.
With the threat of an impending blizzard (that never materialized) hitting the northeast, my in-laws decided to spend the night prior to their flight at the Hilton at Newark airport. Luckily, unlike their fellow travelers flying on American Airlines out of JFK, their flight Tuesday morning was not cancelled and took off shortly after de-icing the plane.
Getting There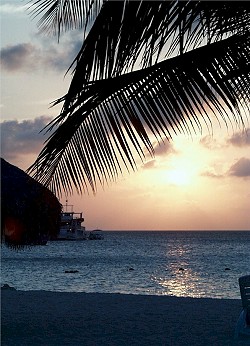 Our flight was on Delta, non-stop out of Atlanta's Hartsfield International Airport to Aruba. Jerry flies Delta on business and thought that we had some of the best flights that he has experienced. They supply plenty of pillows, blankets and even a wide variety of magazines. Meals were typical airline food, as a matter of fact the same menu as our trip in September; but unlike six months ago, we were offered beverage service numerous times. The B-737-800 configured 3 and 3 that they have been flying on this route is a cramped plane, but lucky us had no one sitting next to us on the way to Aruba so we were able to pull up the armrests and spread out a little.
Coming home Jerry inquired at the gate if there were any bulkhead seats available and sure enough they had them. Bulkhead seats are great when you can get them because they do give you a little bit of extra legroom, no worries over the person in front of you reclining their seat in front of your face (had one of those on the way to Aruba…but with my destination in mind it was livable). A disadvantage though is no room to put anything under the seat in front of you since it is not there! Everything must go in the overhead bin and since you are one of the last passengers on the plane with the boarding beginning in the back of the plane, you may get shut out of overhead bin space. Then the airline will require you to check your carry-on. Always a gamble, but it was worth the extra legroom on such a long flight.
A big advantage for us with the storm in the northeast was a 150 M.P.H. tail wind. Departing Atlanta's Hartsfield International Airport about 20 minutes late, we arrived in Aruba 25 minutes early! Again, what luck.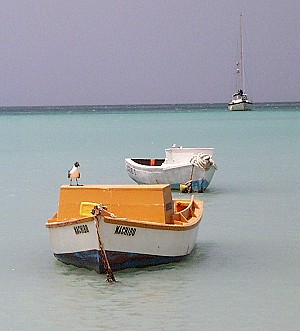 Upon landing in Aruba the Continental plane that had carried Jerry's folks from Newark was at one of the gateways with luggage being loaded onto it. Obviously they had arrived well ahead of us, which was fine. We had planned to meet at Gilligan's at the Radisson after we checked in.
I am still trying to get used to the look of this new airport. Shamefully I must admit I do miss walking off that plane and down the stairs into that smack of hot wind in your face. There are more shops open than in September, but there are still vacancies and no real restaurant or bars.
We are usually those folks who wait and wait for their luggage. Last trip we swore the luggage handlers put out half of the luggage and then went on a coffee break. This year we were one of the first folks to receive their baggage so off we went. I had phoned our taxi driver friend Franke a week before our arrival and there he was when we walked out of Aruba Customs! He is always waiting for us with his huge Aruban smile upon arrival in Aruba. Just like coming home.
I have an interesting little story about Franke coming up later. For now Jerry and I were on our way, off to the Radisson with Franke, a proud Papa in his new taxi. His daughter Jeannice, had just returned from the Latin American Tourism Beauty Pageant in Venezuela. Not only was she crowned Miss Tourism Latin American 2001, but she was also awarded the titles of Miss Congeniality, Miss Beautiful Hair and Best National Dress. Franke was just busting his buttons over his daughters. The other daughter has studied computers in college and was in the states interviewing for positions in Chicago and Atlanta.
The Radisson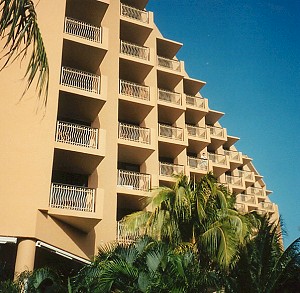 Upon arrival we were immediately met by one of the doormen who proceeded to take our luggage from Franke's trunk. They put your luggage on a cart while you are checking in. No lines, we walked right up to the desk and Jerry handed the young man our confirmation from MCM Tours. He typed everything into his computer, looked perplexed, stared at the screen for awhile and then excused himself to go ask a supervisor for assistance. My husband has the same name as his father and does not use "Junior". It turns out that when Jerry's folks had checked in prior to us, the hotel or the computer thought that Senior and Junior were one in the same person. So…in effect, the other room had been cancelled. No problem though, they were very apologetic and asked us to give them a few minutes to straighten everything out. My last name is different from my husband's and thus a different last name from my mother-in-law (follow me so far?) and unfortunately the computer evidently didn't even pick up that fact.
While Jerry waited I went to the concierge. I had made most of our dinner reservations on the Internet about a week before hand. The restaurants ask that you do confirm, so I had a list of where and when typed up that I just handed to the concierge. I checked back later that evening to make sure that all was okay. Glad I did. The two concierges were busy when I passed them the piece of paper (with a tip I might add!) and the list ended up in their drawer. She promised to take care of it right away and before we retired for the evening we had confirmation of the list slid underneath our room door.
As a side note, I had e-mailed Aruba Concierge Services to make a reservation at a hotel for which I had no contact information. They never responded so I took the $5 they would have gotten for the service and put it towards the gratuity for the concierge at the Radisson.
By the time I returned to the front desk, Jerry was signing all of the paperwork and we were off with the bellboy to our room. We had booked a gardenview and at this point had no idea what to expect. The bellboy led us to the Bonaire tower, while trying to give us the layout of the resort. When we told him we didn't need the tour, we had just stayed there in September, he was so very happy that we had chosen to return.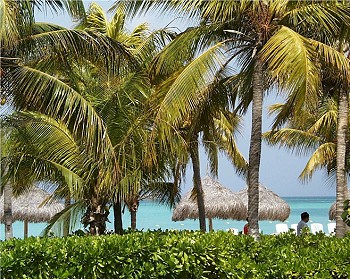 Lo and behold we had room 2417, the room right next door to the one that we had had in September! The same view of the ocean, pool and gardens, with the addition of the island but a little further to the north so no sunset, but very lovely nonetheless. Not bad for booking a gardenview!
My in-laws had booked a Bonaire Suite and requested a room on one of the higher floors of the four-story tower. They were assigned an even numbered suite on the third floor. Terrific view of the gardens, south swimming pool and sunset, but one drawback, no balcony. This Bonaire Suite had only a step out balcony, along with the two large picture windows that the other Bonaire Suites have. After seeing the photos of the suite that we had had in September, they had assumed they would have a balcony. My father-in-law inquired the next day about changing to another suite and they had an odd numbered suite available the following day. In the long run, they decided it was not worth re-packing just to have the balcony. It was nice to know that the Radisson would have cheerfully exchanged their room for them.
Okay, so what are the differences between odd and even numbered Bonaire suites? Even numbered have no balcony, but do have a wet bar, table for four and in the bath, a body spray shower in the largest shower I have ever seen. The odd numbered Bonaire suites include a balcony, dressing area, whirlpool tub and separate large stall shower. The living rooms and bedrooms were both about the same size. In any of the towers, the higher the floor that you are on, the better the view will be. When In the Bonaire tower, the higher the number of the room the closer to the ocean that you will be. If you do stay in a Bonaire Suite and like a balcony and whirlpool tub, request room number 4219 at your time of booking.
Okay, so what can I say that I haven't said before? Just re-state from my last trip report? Seriously, check out our last trip report for more details on the Radisson. This resort is awesome, beautiful, wonderful and gorgeous. Jerry and I met with a Frommer's travel author on Monday who was doing research on the island. He has traveled throughout the Caribbean and was seriously impressed by the Radisson resort. He especially loved the pool area and West Indian furnishings in the guest rooms.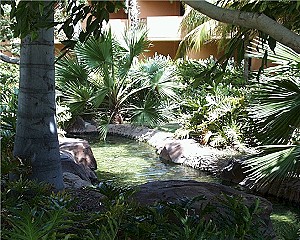 Our room this time was the same size as the bedroom that we had in the Bonaire Suite. The bathroom of course was slightly smaller, but plenty of room for us to spread out our toiletries and of course the Radisson provides robes for your use during your stay. The toiletries supplied by the Radisson include shampoo, conditioner, body wash, oatmeal soap, glycerin soap and another type of soap...aloe lotion, body lotion, q-tips and cotton swabs, sewing kit, shoe cloth and shower cap! I could go on and on about how wonderful this place is, for more description of the rooms check out our September trip report.
The gardens, now that the resort has been open a year, are really maturing. The trees are growing like weeds and the Radisson just keeps everything in tip-top shape. Look at the photos on our photo pages and I think you will see what I am trying to say. This trip we even found the location of the shuffleboard courts, tennis courts, and Kid's Club.
Another thing that really amazed us about the Radisson are their employees. We could not believe our eyes when we saw that almost all of the employees that were working at the hotel in September were still there. I don't know if this is typical of all Aruban establishments, but here in the states, we are not used to such loyalty. Everyone is just as friendly as ever. No request is too much or unreasonable and goes answered with a smile. Yes, even the gardeners still greet you as you pass. Make sure you meet Esther who works in Gilligan's and Laguna Restaurants for breakfast and lunch. You will be hard pressed to find a nicer, happier person who is also a fantastic waitress!
Everything at Gilligan's is the same except for some nice additions to their menu. The Vegetable Wrap is outstanding and what a huge portion! This is enough to share. It is Portobello mushrooms, black olives, tomato, artichoke hearts, romaine, roasted red peppers and onion with homemade hummus covered with a lemon yogurt sauce. You can get it without the sauce if you like.
They have also added a Yellow Fin Tuna Sandwich that is marinated in onion and citrus then grilled and served with a parsley mayonnaise on a Dutch roll. There is also a Grilled Swordfish Salad. Their Caesar Salad is still my favorite! We tried to have a piece of carrot cake on our last day, but they had none left. The chocolate cake they serve also looks delicious! Menu prices seem to have remained the same since our visit in September.
Happy hour at 5 o'clock with spicy French fries and a live band from 4 p.m. to 7 p.m. is still terrific! There are a few different groups who entertain throughout the week. There is a female lead who is excellent. They usually play 4:00 p.m. to 7:00 p.m. at Gilligan's and then move up to the Mira Solo Lobby Bar from 7:30 p.m. to 11:00 p.m. We could hear the music from our room each evening, but it was nice, might be a little annoying if you were trying to watch TV.
Breakfast at Laguna was also exactly the same, we enjoyed it just as much this visit as the last. Where else can you go to be entertained by live piano music during your first meal of the day? Since the hotel was so full towards the beginning of our stay there were a few mornings where it was a few minutes wait to be seated, but nothing that was a problem. There was one day during our stay where the Executive Chef also stopped by Laguna and greeted some of the tables of diners.
The Vacation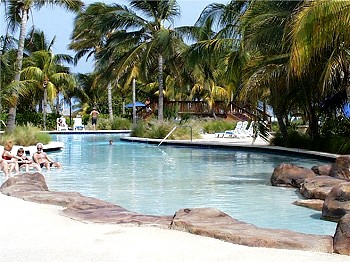 My father-in-law wanted the freedom of having his own "wheels" while we were in Aruba. Signing up for the VisitAruba Plus card, he booked a Daihatsu Terios from Economy Car Rental. They are a four door all wheel drive with a hard top and air conditioning. Can't say enough about how great the vehicle was. It is decent in size and was perfect for the 4 of us to ride to dinner each evening and the one day we spent showing Jerry's parents Arikok National Park. The all wheel drive (not to sound like a commercial) tackled the toughest terrain on the way to the Natural Pool. If you have ever been to that part of the island, you will know what I mean. These are paths where no car should ever venture. The rental was low in mileage and in excellent shape. The island has been on the dry side so the topped off windshield washer fluid is always a blessing and sometimes overlooked by many of the rental companies. They picked up and returned the Terios at Economy's airport location.
After we had been shown to our room we changed into our swimsuits and headed down to Gilligan's to meet Jerry's parents. They live in New Jersey and we live in Georgia and do get to see them fairly often, but hadn't been with them since Christmas. I think this was just another reason why everyone looked forward to this trip, spending some family time together without hectic holiday activities etc.
After catching up over a couple of pina coladas we decided to take a walk along Palm Beach to show Jerry's parents some of the other resorts. They loved the Playa Linda Beach Resort and liked the grounds of the Radisson better than the Hyatt. After then it was back to the rooms for showers and preparation for dinner at Gasparito Restaurant and Art Gallery.
In that it is our favorite restaurant, it is always our first and last dinner while we are on the island. We were especially looking forward to introducing Gasparito to my in-laws and showing them the photo of our cat that hangs on the wall just inside their entrance. In case you haven't heard the story already, we have four cats, the first one we acquired we named Gasper after Gasparito!
The place was quite crowded when we arrived, but it was great to see Henri and Elvina. We would have to wait until our last visit to see our friends Jorge and Gladys. Some wonderful changes at Gasparito with the addition of an outdoor patio. It features a small bar, fountain and live music. The best is that it is on the "breezy" side of the building, so you have natural air conditioning. Looked pretty romantic to me, but make sure you still step inside to check out the artwork and our cat's photo!
A little surprise came upon us while at Gasparito. We can talk all we want about how nice the Aruban people are, but it isn't until you really witness these events it is hard to appreciate. When Franke dropped us off at the hotel we had to explain to him that Jerry's parents wanted to use a rental car. We would miss not being able to use his services during the trip, but he was very understanding. In the middle of dinner who comes strolling over to our table, but Franke! He had found a package of cigars in his taxi. Thinking they were ours he wanted to make sure we got them back. He remembered that we always go to Gasparito on our first night on the island and we being creatures of habit, have reservations at 7:30 p.m. Unfortunately they were not our cigars, but what a kind gesture on Franke's part to try to get those cigars to us.
Dinner was wonderful as always. Ragout from Squid and Scallops, Onion Soup, Seafood Soup, Pasta with Fresh Mushrooms, Red Snapper with Garlic Sauce, 2 Filet Mignon and Chicken Keshy Yena; Pineapple & Pear Strudel ala mode, 1 coffee, 3 capuccino, 2 drinks- $150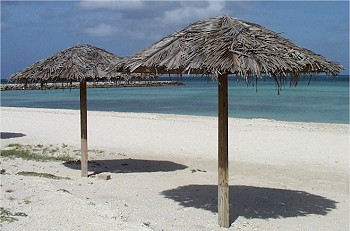 The rest of the dinners that follow were all very good, some better than others. Because my in-laws, tastes are a little different than ours, we tried to choose restaurants that we thought would be more to their liking. They are pure Italian, through and through, so at least two Italian dinners was important. We skipped some of our favorites, 3 little birds, Chalet Suisse and L'Escale in favor of trying some of these places that were new to us. Next trip we would like to try dinner at Marina Pirata, Paparazzi and Hostaria Da Vittorio and would try to go back to the Sunset Grille for a second night.
Wednesday morning Jerry woke up at 6:45 a.m. (he is usually up at 5:15 a.m. at home) and went to look outside. Oh my! There were 30 people standing in line waiting for the towel hut to open at 7 a.m. This was going to end up being the worst part of our trip, but is the same situation all over the Caribbean and Aruba. To the Radisson's credit, there are very specific rules posted at the towel hut and on all of the palapas. The hut opens at 7 a.m. and you can then sign up for your palapa for the day. If your palapa goes unoccupied for more than 2 hours, you loose the palapa. We did not see anyone's belongings removed, but the beach boys do keep in close contact with the towel hut and there really were no beachgoers who abused the policy. Not a big issue with us, we rotated setting the alarm each day so one of us could go out and get in line. The only time we left the palapa totally empty was when we took the few steps away for lunch at Gilligan's and breakfast at Laguna.
The Radisson uses rigid plastic chaise lounges. I am not sure but would venture to guess that the plastic fairs better in the salty air than the metal chaises do. These plastic lounges can be tough on your back end after awhile. The resort provides nice cushions at the pool for the chaises, but the cushions are not allowed on the chaises at the beach. Our solution was easy, but did involve an additional expense, part of which we would have spent anyway. Floats are rented, like at most resorts, for $5 a day. We wanted 4 floats for the week and a deal was reached for $100 total for four for the week, so we saved $40. It was worth the price for the comfort.
The rest of our days except one were spent the same way. Beach, breakfast, beach, 3 of us walked the beach or boardwalk, beach, lunch, beach, happy hour and then off to get ready for dinner. The weather throughout this entire trip was spectacular! At sunrise there were usually clouds around. By 9 a.m. the skies would clear and by noon the skies were mostly sunny. Wednesday morning we had literally two drops of rain, one on each side of our palapa. This was the total extent of rain on this trip. Daytime temperatures were around 86 degrees F. and nighttime was about 77 degrees F. It was extremely windy, a little more so than usual. It seems that there was a high-pressure system over the Caribbean and a low-pressure system over the lower part of the U.S. The great difference in pressure created these really strong winds of about 25-30 M.P.H. each day. Again, this was never a problem for us. A few nights I was a little chilly while walking outside, but then again I had spent all day in the sun, so maybe it was just I. The water was cooler than it was in September, but the water temperature in Aruba never ranges far from 78-82 degrees F. throughout the entire year.
This morning Jerry and I decided to take his mom to the opposite end of Palm Beach we had been before. So off to the Phoenix we went! Stopped in a looked at the new Vacation units at the Aruba Grand and they are really, really nice. Especially the outdoor patio and voila, you are beachfront no less! We continued on our way, me taking my photos as we went along. I took an average of 200 photos each day of the trip. The advantage of a digital camera is that the photos can be stored and then delete the ones you do not choose to keep. We have enough cards to hold about 270 photos so bring our laptop with us to Aruba. At night before bed or while I am waiting for Jerry to shower before going to dinner, I will download the photos off the cards onto the laptop. From here I am able to edit them down to a manageable size. At the end of this trip I ended up with approximately 750 photos of Aruba.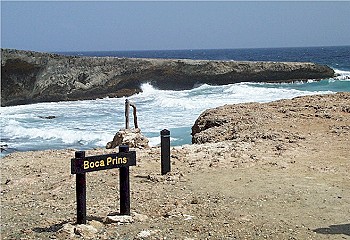 Dinner this night was at the Italian restaurant, Tuscany, at the Marriott. This was an excellent choice. Not a cheap dinner, but well worth the money. Service and ambiance were also outstanding. 2 Antipasti Toscana (tomatoes, mozzarella, vegetables, prosciutto, and melon), Pannochie All'agliom (shrimp in lemon and caper source), Shrimp Scampi, 2 Pollo al Funghi Ripiene (chicken breast with shallots, prosciutto, mushrooms, spinach, mozzarella), Spigola al Parmesan (parmesan crusted sea bass in basil butter), Bongo Bongo di Amaretto- this is a must try- profiteroles filled with Amaretto gelati, covered with chocolate and sprinkled with toasted almonds 3 Capuccino, 1 Espresso- $200
On the way in to the restaurant a bracelet in the window of Columbian Emeralds caught the eye of my mother-in-law. When we were finished with dinner, she had had long enough to decide that she really liked it so we stopped in. Not only did she get a new bracelet, but Jerry's parents bought one for me too! They saw one they liked and it matched a bracelet I had been wearing perfectly! The gentleman at the store was terrific! He even cleaned our rings for us.
Thursday was just more of the same indulgences. My in-laws hate the cold of winter in New Jersey but at the same time do not like to sweat. They were amazed how comfortable and relaxing it was to spend the entire day at the beach. Under the shade of the palapa, my mother-in-law (who does not swim) crocheted a baby blanket (small enough that it wouldn't be too hot) and my father-in-law dozed and read. They own their own business and were enjoying their well deserved and hard earned vacation. Jerry surprised us by walking down to the Hyatt Regency Aruba Resort & Casino and bringing back some of their frozen yogurt drinks. My favorite is the cocoanut and pineapple!
Dinner this night was at The Promenade. I was very happy that I had made a reservation. The place is relatively small. Being in San Nicolas, I highly suggest visiting this restaurant on an evening when you have access to a rental car. Valet parking is provided and it is very easy to locate. Seafood Tempura (Jerry was a little disappointed, although very good what was served we call a ceviche, he expected a batter dipped and fried appetizer), 2 crab cocktails (with REAL crab), Shrimp Cocktail, Grilled Lamb, Marinated Shark Steak, 2 other entrees (sorry don't remember), Apple Pie- $119 Dinner this night was at The Promenade. I was very happy that I had made a reservation. The place is relatively small. Being in San Nicolas, I highly suggest visiting this restaurant on an evening when you have access to a rental car. Valet parking is provided and it is very easy to locate. Seafood Tempura (Jerry was a little disappointed, although very good what was served we call a ceviche, he expected a batter dipped and fried appetizer), 2 crab cocktails (with REAL crab), Shrimp Cocktail, Grilled Lamb, Marinated Shark Steak, 2 other entrees (sorry don't remember), Apple Pie- $119
Friday came and we all agreed that we had relaxed enough to set out exploring the cunucu. My in-laws had been on the island once before during a cruise. Franke had taken them on a tour of the island, but there are certain places where a car can just not go. These off road areas in Arikok National Park were our major targets. Again, having rented the Terios from Economy we tackled every path put before us. Boca Grande, Boca Prins, the White Sand Dunes and Dos Playa. The Dutch military was performing drills so we were unable to take one of the roads along the coast. We ended up take the road up near the Tunnel of Love to cross over to the other side of the military range.
When you get to Dos Playa, make sure you walk out onto the point so that you can view the second beach. You won't see it standing at the top of the stairs or from the parking area. Okay, we saw it all, so what else? Jerry (DH) has wanted to find the Natural Pool and we had the time and vehicle this day so we figured why not give it a shot? Only one small problem, Jerry had not told me of his intentions and the directions to the Natural Pool were back at the Radisson.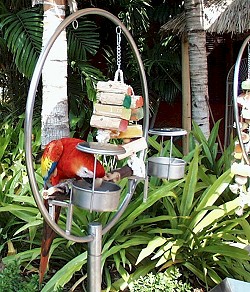 Okay, so we knew we needed to head in a northerly direction, so we followed the road as far as we could. In this section of the park the roads only go so far north. We tried a few different roads to no avail. Finally giving up we took one of the roads that headed west out of the park. It was here just outside the park that we encountered a horseback-riding excursion. Asking for directions to the Natural Pool, the guide motions to follow them. So…we followed the horses, all 12 of them at a break neck speed of 5 m.p.h. The group was not going to the pool after all, but did point us down the road where we needed to go.
Don't you know we reached another entrance to Arikok National Park? There were some interesting hand painted signs, one of which stated that it was 20 minutes from that spot to the Natural Pool and NO cars. These were also some of the worst trails in the park. Once we reached the pool it was worth the view. Jerry and I both admitted that it is not a spot that we would return to year after year. "Been there, done that", if we were with people who had never been we would take them, but would not go out of our way for ourselves.
Back to the hotel it was a long morning and part of an afternoon. We wanted something to snack on so headed to Gilligans. Jerry and I decided to hang out by the pool for the rest of the day while Jerry's parents hopped back into the Terios for a shopping trip in Oranjestad. Upon their return, Jerry and I were recipients of a hand-embroidered tablecloth with matching napkins from Little Holland! Jerry's mom has impeccable taste so the tablecloth was just beautiful.
That evening was a dinner that we had looked forward to The Sunset Grille at the Radisson. Request a table outdoors on the terrace. Jerry and I had enjoyed our meal here in September and this meal was even better! Prices are pretty steep, but you will get what you pay for. The beef and seafood are top quality. Jerry, his Dad and myself decided to try the Sushi. The portions were huge- plenty to share! Maguro (Tuna) Roll, California Roll, Alaskan Roll, Onion Soup, Tenderloin Barrel Cut, China Town Sliced Steak, Pan Seared Ruby-Red Sushi Grade Tuna, Grilled Blue Marlin Steak, Heaven and Hell (one of those absolute to die for chocolate cakes), Fresh Strawberries, Cheesecake, 3 capuccino, coffee- $250
Saturday was just more of the same- beach, beach, beach. Jerry and I decided to take one of our favorite strolls down Palm Beach. We walked the beach from the Radisson to the Windsurfer Huts and back. DH indulged me along the way allowing me to stop to take photos. He and I walked through the grounds of the Marriott and Marriott Ocean Club. Very nice places, we especially liked the Ocean Club! They have a beautiful pool area. I acquired some Marriott photos on this excursion.
Dinner this night was at Texas de Brazil. Texas de Brazil has been getting rave reviews on all of the bulletin boards. They are located in Palm Beach next to the Chinese Buffet and McDonalds. The busiest restaurant we encountered during our stay, we had a reservation for 7:30 p.m. and were seated right away, but we were disappointed in our experience.
The salad bar was great and offered a wide variety of items. The meat however was coming out raw and is on the salty (those are the types of seasonings that they use) side. Jerry and I both eat our beef medium rare but this stuff was being served near raw.
Waiters scurry around the restaurant serving filet mignon, Brazilian sausage links, Brazilian Picanha, leg of lamb, chicken breast wrapped in bacon, filet mignon wrapped in bacon, chicken legs and parmesan crusted pork loin, Also served are sides of garlic mashed potatoes, flambéed bananas and cheese bread.
Each table has a big peg that they stand on end. Green means serve me, red means, none right now please. It is a unique concept, something everyone should try, but not a place we need "have" to return to. One set price about $33 per person.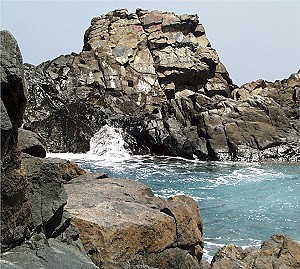 Our table was right in front of the kitchen door (not a problem) so you would think that not too much would get by us. We were all pretty much full and ready to leave but Jerry and his Dad wanted to try some of the Lamb. It just so happened that the manager walked up and asked us what we needed. We told him lamb and he said he would see we got it right away. A few moments later, someone else comes to us inquiring what we were looking for. Lamb please! Well there were 4 different people in total who inquired what we would like and the lamb was a very long time in coming. When it finally did arrive it was nearly raw.
Like El Gaucho, Tony Romas or Outback it is one of those places you have to try at least once. They are a chain. If you are into quantity and have the time (they served one or two pieces of food at a time) then you would probably love it. The problem with the raw meat was probably because they were so busy and could not get the food out quick enough (they had people waiting all over the place when we left).
We passed on the dessert and finished off our evening at the new café Amici's across from the Playa Linda. Cute place, indoor or outdoors seating, they serve ice cream, coffees and pastries. We had a banana éclair, which was terrific, and another piece of cake that was so so.
Sunday was just more of the same old boring thing…going to the beach. Yes, it is tough and we are boring. One of my father's sayings was running over and over in my head, "Pray for a cloud days." Yes, the weather was that terrific! This morning my father-in-law went to mass at St. Anna's in Noord. Mass is mostly in Papiamento, but if you are Catholic you get the gist of what is going on. Masses are 7 p.m. Saturday evening, 7:30 a.m. and 6 p.m. Sundays. His only complaint was that the kneelers were very uncomfortable. I suppose that is one of the prices of paradise.
Dinner this night was another we had looked forward to, Avallone's LaTerrazza Ristorante Italian. It was also excellent, but much different from our Italian meal at Tuscany. The easiest way to explain it, if you want gourmet cuisine try Tuscany; if you are looking for a more casual, more traditional, but tasty Italian meal, go to Avallones. We would return to both restaurants. Mozzarella and Tomatoes, Primavera salad, 2 Fried Calamari, 3 Veal dishes, Seafood and Pasta, 2 Cannoli, Tiramisu, 3 Capuccino, 1 Coffee- $150
Monday was our last full day with that dreaded going home feeling beginning to set in. Jerry and I took our one last walk of the trip down Palm Beach. That afternoon my in-laws ventured to Oranjestad one last time to purchase Cigars and Liquor. Guess what we did the rest of the day at the beach? In a conversation Jerry had with his father he agreed that yes, we did not need the rental vehicle for an entire week. One day for sightseeing was sufficient. Taxis to the airport, restaurants and shopping jaunts would have been cheaper in the long run.
Dinner that night was at Gasparito. Onion soup, Escargot, Pasta with Fresh Mushrooms, Ragout from Squid and Scallops, Broiled Red Snapper with butter and garlic (a special request), Broiled Red Snapper, Filet Mignon with Mushroom Sauce, Shrimp in Garlic, Pineapple & Pear Strudel ala mode, fresh fruit plate (special request), 2 Capuccino, 1 Coffee, 1 drink.
Tuesday was departure day for all of us. We were all up early for those last precious hours on the beach. Check out is at 12 noon. Jerry's parent's flight was about an hour prior to ours, so after a leisurely lunch at Gilligan's we said our good-byes until Easter and off they went to the airport. We decided to hangout at the Radisson. Franke was coming to the hotel to pick us up at 2:30 p.m. I guess I was a good girl; my DH bought a bottle of "Aruba" perfume for me at Maggy's in the lobby. I chose the starfish, which has a nice light fresh scent. Franke was early as usual; poor guy had had the flu all week. It seems that it is going from one Aruban to the next. When we arrived at the airport we were very happy that we were flying on Delta and not American! Their lines were LONG! Getting through US Immigrations and Customs was a breeze and the new gate areas are such a comfortable replacement over the old departure area. This one actually has seating for more than 12 people. Our flight departed on time and arrived in Atlanta a few minutes early. A perfect ending to yet another perfect stay in paradise.
ArubaLisa