Wyndham Aruba Beach Resort (now Westin)
November 22 - December 10, 2001 - by Howard and Mary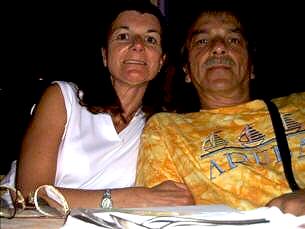 We flew American out of LAX to Miami and on to Aruba. The flights were uneventful and were about 90% full. The bad news about Miami airport is that they have remodeled most of the terminals and gotten rid of the local flare. The place that we used to get a Cuban sandwich is now outside of the secure area, so we had to settle for some generic fast food. Change is good?
We got into Aruba on time, and taxied to the Wyndham.
We had done the Wyndham-By-Request before we left, so the room was pre-assigned and check in was done in less than 5 minutes. Cristina Gallendo had arranged for a bouquet of flowers to be in the room when we got in, and they were beautiful.
By the way, on AA they didn't charge us for the headsets either way. Going there, they said it was because of Thanksgiving, but they didn't charge on the way back either, so no food but free old movies!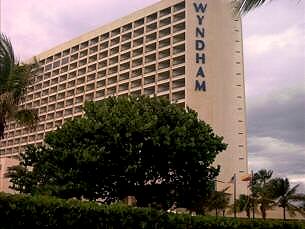 All of the rooms at the Wyndham have refrigerators, so we went to the supermarket and stocked up on a large half round of Gouda, local bread, dutch ham and salami, butter, Wise potato chips, and champane and a jug of Carlo Rossi wine. We brought our own mayo and mustard. Total bill was $50 US. This was our breakfast on those days that we didn't feel like the buffet and dinner on those days when we didn't feel like a big meal.
The breakfast buffet at the Wyndham is really good, and we opted to buy 7 for about $125 pp. This lasted the entire 18 days. The first night that we got in, we unpacked and changed, then went out to check out the beach at night and the casinos. The Grand casino was already closed at midnight, (the manager said that there was no one there, so the closed up early and sent the employees home). We prevented this from happening the other nights of our stay! The beach was gorgeous as usual, except for three days when there was a hurricane off of the Bahamas. Those days there was some seaweed and there was surf of about 1.5 feet! Wow, get out the boards and ride'em!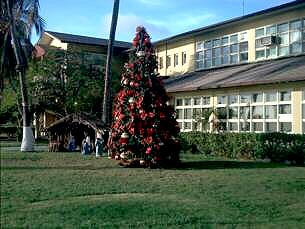 By the way, she said that she got a new house, near the Marriot, and took a few days off to move. She said now she needs money! We threw her some business toward the end of our trip, but that's another story. She didn't say if she bought it or is renting it, but she did say that it was new.
The great news for Video Poker players is that the Radisson has about 30 muti-game machines that are set to near FULL-PLAY schedules. This did change while we were there, but after bitching to the slot manager, they changed some (8 total) back to full-pay. These were regular 9&6 poker, 8&5 bonus, and 9&7 double bonus. Needless to say, we spent most of our time and money at the Radisson.
The Radisson's grounds are very well done, and the pool area rivals the Mirage in Vegas. The waterfalls, both on the street side and the beachside are beautiful. On some of these shots you can see the lizards on the rocks. Oh to come back as a lizard in Aruba!
Sunset Every day our plan of action was about the same.
We'd rise at the crack of 9:30 AM, watch some TV, have breakfast, and trudge down to the beach. We'd get there about 11:30 or so, and stay until about 2:30 PM. Some days, a hut would be available, but most days, we did without. There is no way that we would get up at 8 AM to reserve one.
We always bring our own inflatable raft, (being cheap, we hate to pay $5 a day for one, so we buy one at the end of summer at 50% off, for $5 at Walmart, and bring it there, and leave it to the whitest person that we see on the beach on our last day) This year we named it Wilson in honor of Castaway.
The waves on most days are gentle enuf that we can lie on the raft, and even though the wind pushes you south, you never go out to sea, or in to the sand. You just kind of stay in one place.
We can't say enuf about the Radisson's renovations. That money was well spent. On our last trip, two years ago, they were just a few months away from opening, and we working on the landscaping. What a great job they did.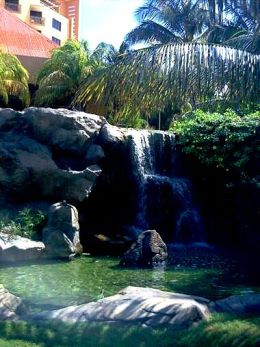 We did find about 6 video poker machines at the Holiday Inn that were full pay, and we played them also.
To continue on about our itinerary, after the beach, we'd go back to the room, shower and change, have a glass of wine on the patio, and decide if we should get something to eat, or gamble first. Normally, gambling won out. We'd start at the Wyndham and work our way north. The Wyndham's machines were only passable by Aruba standards, and were dwarfed by the Radisson's. The Grand has only two machines that are worth playing, but that was O.K., because there's only two of us.
Mary would play the 8&5 bonus, and Howard played the 9&7 double bonus.
If you are wondering about the pay-tables here, they are better than what you'd find in Atlantic City, and better than most of the strip in Vegas, and equal to the downtown area of Vegas where we hang our hat.
We would normally play from about 4 PM until around midnight, longer on some nites, less when we were losing. We didn't hit anything big, but did close out the trip with a $400. win on the dollar machines at the Radisson.
Romero is still at the Radisson, but not working the bar. He's one of the servers, and looks as good as ever. He has a tendency to work the lone women at the machines, and he gives them a thrill. By the way, the new casino is very nice, sort of a starry nite theme, with the main part being a circle. All of the tables are set in the center, with machines around the outside. Then it continues toward the new bar, with more machines. The slots are a good mix, with some having a progressive of $10,000. That would be a nice way to crown a trip!
The Radisson has an open lobby with Parrots all around. They perform when you point a camera at them. The white one swings upside down, and the muti-colored one spreads his wings like an eagle.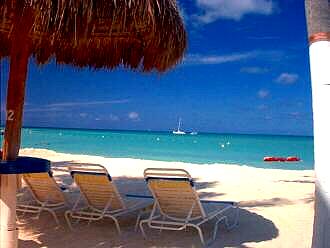 We went to town a few nites to see Harry Potter, and Monsters Inc. The theater was full for Harry, but that was a Friday nite. The kids were VERY well behaved, and the one thing that got us, was that everyone picked up their own trash at the end and walked it to the trashcans. WOW!!!!!!
We ate at Villa Germania for desert one evening. Howard had a struddle with ice cream that was very good, and Mary had some killer chocolate cake. We normally don't have much of a sunset from the Wyndham, but one day, the clouds were not there and we had some beautiful ones.
We also ate at Cuba's Cooking. We had downloaded the menu beforehand, and submitted it to one of Mary's co-workers who's from Cuba, and she went over it, and highlighted the stuff to try. Everything except the service was great. We had roasted pork, and beef, plantains, and yucca chips. We had a free cocktail card for a Hemmingway Daiquiri that was outa this world and POTENT!!!!
Get the impression that all we do in Aruba is eat, drink, and gamble?
Well that's about 80% right.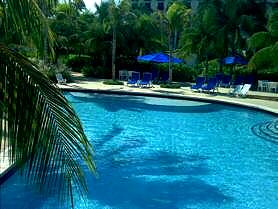 One funny story was in the Radisson. Howard was at the casino cashier getting money( they give out free money?) and if you know how these folks like to snap the bills as they are counting them to you, that's what this guy was doing. Only every one that he tried to snap, went flying in a different direction. He collected them, and explained that he had had 2 JUGS of Sangria with his dinner. Not quite sure what a JUG is, but from the looks of the money flying, it is most likely a large amount.
Aruba BB Part On the 6th of December we went to the sports bar at the Marriott and went to the BB party. We had a great time. They had a lot of prizes and we won an all day deep-sea fishing trip. You have to remember that our idea of a fishing trip is going to the freezer for MRS. PAUL'S, so we gave away the trip to Kansas Bob and Karen. They seemed disappointed that they didn't win the trip, and they mentioned that they were going to buy at least one while they were there, so we're sure that the gift was very appreciated.
They had a small band at the party, and we were there for three hours, and only left because we had to go to meet someone else at a pre-arranged time.
What a great event they put on! Thanks to Mark and his wife for all their hard work.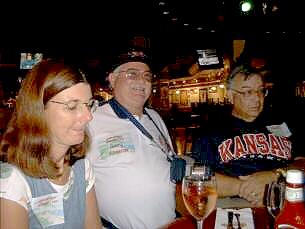 We ate one dinner at Laguna at the Radisson. This was with our points form playing. So the dinner only cost us about $4000. For that amount of money the food wasn't too bad. Just kidding. Their points do accumulate quite fast, and we got some t-shirts, hats, and a few other items in addition to $60 cash back.
The dinners at Laguna was good, but they are closing the restaurant. They are converting it over to a seafood buffet according to our waiter.
Baci at the Wyndham was excellent as always. Their service is always #1.
We tried to eat at the Wendy's at seaport village one nite, but they had NO MEAT!!!! None! There shipment was late in arriving.
One other thing of note, are the Christmas decorations that are put out. They are all beautiful. But more important is the fact that they are not wired down, secured, or alarmed. And NO ONE steals them.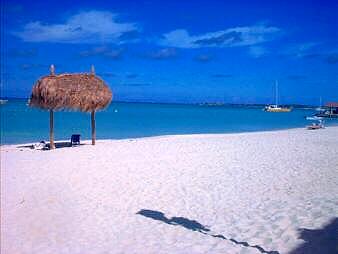 On the Wyndham, a few things.
The forth elevator is nearing completion, maybe 2 weeks?
The service and the rooms were both great. Couldn't ask for more. On our second trip to the buffet, the waitress had already set up our table with the decaf and juice that we like, by the time we got back from the omelet line.
We didn't know that she had seen us, and we didn't have to ask for the stuff for the rest of the trip. They all knew what we drank. Well O.K., so, so did every waiter in every casino on the island, but that's beside the point.
As stated on that OTHER B.B., the procedure at the airport has changed and you can take electronic stuff on board. You sign a paper to declare it, then later they check to see if it works, and it never leaves your sight. We did loose 4 lighters though.
The security is tight, but welcomed, and we arrived 3 hours before and the whole process only took us about 1.5 hours. But don't get there later, because the lines build up as the time of the flights approach, and then it takes longer.
All in all we had a WONDERFULL time, and are already thinking of our next trip there, which might be the 12 or 13th.
Howard and Mary