Paradise Beach Villas
August 12th to August 26th, 2001 by Duane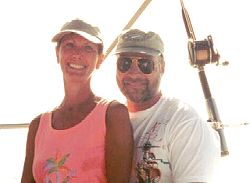 We just returned from a wonderful fourth consecutive visit to Aruba. As you read this, please keep in mind that these opinions are sometimes based upon just one experience, and that we all have different preferences.
Transportation
Commuter plane from Allentown, PA to Philadelphia, then direct to Aruba on USAir. All flights were very nice, except the inevitable annoying delays (ATC clearance, gate not quite ready, etc.) Since we arrived at Aruba and home almost right on time, can't complain.
For the second year in a row, we got a rental car from Caribbean Car Rental (an automatic, A/C Tercel - $380 total for 14 days, plus about $40 in gas). They seemed to be very concerned with our peace of mind and satisfaction, and the rates are pretty good. The car was very functional and clean. The taxi service on Aruba is great, but we like to pick up and go wherever and whenever we want, so the rental is great for us.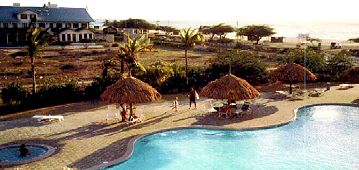 Paradise Beach Villas (PBV) is getting better and better every year. It's small, quiet, friendly, and very laid-back. Thanks to the recently-completed phase 2 pool area (which looks fantastic), it now offers a medium-size pool, large pool, warm and hot Jacuzzis, and a kiddie pool, to be shared by only 80 suites.
Since last August, they added new shade huts (palm-frond thatched) around both pools. The deli is open (food was fine; service was slow), and Le Petit Café is open as the co-located restaurant. We had a quick salad-only dinner there, which was good, but did not eat there for any other meals. The landscaping is basically complete now. Overall, the place looks great.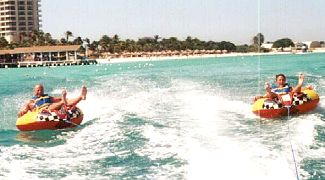 There is no longer an Activities Director (not cost-effective, I'm sure) and the Thursday night BBQ was canceled 2 weeks in a row due to insufficient participation. The staff was still very friendly and helpful, with one possible exception. They must have had some problems in the past year, because now the security guards are quite aggressive in chasing you (politely, but firmly) out of the pools and spas at 9pm sharp. I heard that they need to add a strong chlorine shock to the waters every night, and need the 12 hours for the water to return to safe swimming levels. We sure miss the chance to luxuriate in a spa at 10 or 11pm with a cognac enjoying the night sky.
PBV has a small poolside bar and poolside breakfast/lunch restaurant which serves good food. If you are looking for a huge resort with lots of action all the time, PBV is not it. If you want quality accommodations and a peaceful vacation spot, PBV is great. I believe that the recent (and continuing) improvements should elevate PBV's rating considerably.
Beach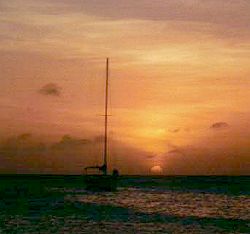 The beach in front of PBV is excellent in that it is wide, very clean, and practically deserted. The Wave-Runner concession was moved farther south, so we were not bothered by their presence, as could be said before. Next door at LaCabana, the beach and surf are relatively crowded.
Touring
Unlike previous years, we did not feel the need to tour around the island. We'll gladly go again when we have some new guests to show around, but we've seen it all already.
Entertainment
The female impersonator show (Don't Tell Mama) was good, but not quite as good as it was 2 years ago (with a different name and some different actors). Barbequed steaks and chicken on the gas grill at PBV one night with another couple. Practically had the resort to ourselves; it was like being a very rich person with a huge mansion and entertaining friends.
Snorkeling Boca Catalina (Malmok)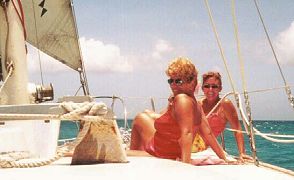 Drive north from the high-rise hotels and park on the beach side right as you get to the houses south of the lighthouse. You will always see a few big tour boats moored there as this is one of their favorite beginner areas. It is not at all deep, and we did see many nice fish. This year was better than ever with great visibility and new/bigger species (one big octopus, a 3 foot trumpet fish, and a huge scorpion fish).
Baby Beach
On the southeast end of Aruba, a long drive from the hotels, it is not worth a taxi ride (IMHO), but we like it there enough to go once per visit. The beach is a large, shallow, sandy lagoon. To really see any fish or coral, you need to go out through the narrow pass to the open water. There is a lot of nice elkhorn coral and quite a few nice fish. Our only visit here this year coincided with a severe storm passing to the far north, creating pounding surf. I did snorkel out in the reef, but it was too rough to be enjoyable this time.
Snorkel/Sailing Cruise on Tranquilo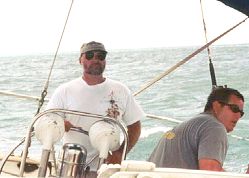 I can't say enough good things about Capt. Anthony and his crew. This private charter trip was mostly for me to get some more time handling larger sailboats (Tranquilo is a 43 foot monohull sloop), but it turned more into a great private party. With a crew of 3 and five passengers, we sailed sail southeast while we drank (I was pretty reserved until later), then we snorkeled at Boca Catalina with an excellent guide. We had a simple lunch of terrific sandwiches, which our party devoured. Afterwards, we motored over to the nearby Antilla wreck for some good snorkeling in 60 feet of water. The impression we got from start to stop was that they enjoyed being in our company, and we partied like friends more than just crew/passenger.
DePalm Island
The reason we love DPI so much is the quality and quantity of fish and coral. I liked to go pretty far out (maybe 200-300 yards) where few people go. The "canyons" had a fair amount of nice colored corals and many interesting fish. Really close to the stairs entering the water were many large (20-36 inch) blue parrotfish and medium (16-24 inch) stoplight parrotfish. We drove to the ferry dock and paid a la carte for the ferry ($8 which includes a drink). The drinks were $3.75 each, which is the cheapest tourist place we ever found. This year we saw a fairly large turtle only five feet from us!
Email
As before, I used the Cyber-Cafe downtown. My existing account could not be found, but I started a new one and checked my important email about every third day.
Food/Restaurants
We had all our breakfasts, except one, in the timeshare suite. We were usually on the go at lunchtime, so we ate sandwiches and snacks we prepared. We really only had one subpar meal (the paella at Tabasko's) , and we ate out more than usual. Based upon this year's visit, we highly recommend the following:
[All prices include liberal amounts of drinks and tip]
Madame Jeanette's excellent seabass and duck breast ($60)
Chalet Suisse
excellent seabass and mixed grill ($80)
Buccaneer (corny atmosphere, but great, inexpensive food)
excellent paella and pepper steak – delicious filet ($45)
Avallone's (great Italian food)
grouper in a wonderful sauce and shrimp/pasta special ($90)
Ventanas del Mar (at golf course; expensive, but good)
surf/turf (lobster was quite small, but filet was great) ($110)
Flying Fishbone (great food, wonderful outside atmosphere on the water)
delicious lobster soup, lamb, grouper provencale ($120 with extra drinks)
Weather
We had what we believe is typical August weather. It was generally hot (very strong sun) with scattered clouds offering a welcome spot of shade. It rained once very briefly. The breeze was almost perfect, strong enough to keep the bugs away (never once had a problem with bugs) and to keep you from getting too hot. On a few afternoons, there would be sporadic gusts which gave you a brief blast of sand, but it wasn't really a problem.
Duane