Bucuti Beach Resort
April 25 - 30, 2001 by Chris & Amy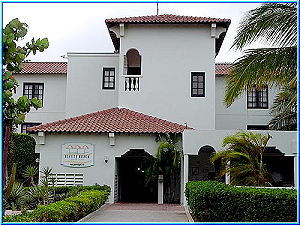 First I would like to thank everyone on the bulletin board who helped us plan our trip - from answering our questions to writing their own detailed trip reports. Special thanks to "Bucuti" Stacy for her trip report and to Orrin for his informative web site. We printed out Stacy's and Orrin's material and brought it with us to Aruba. We first came to Aruba a year ago on a cruise and stayed one day. After seeing all the sites and snorkeling on Arashi beach - we knew that we wanted to return.
I have arranged our trip report in subject headings. I intend to write as much detail as I can remember, since it helped us so much when reading other trip reports. This way, you can skip the headings that don't interest you.
The Flight to Aruba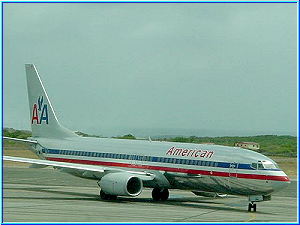 We flew out of Washington Dulles on American Airlines. We were originally scheduled to fly on a 757 which is a large plane with plenty of leg room. American switched us to a 737 which is considerably smaller. My husband, Chris, had requested the exit row as it provided more leg room. What we didn't know was that the exit row arm rests do not move and are wider (the fold down tray is inside the arm rest) therefore your seat is narrower. Chris had plenty of leg room but I was in need of more room in my seat. American has done a pretty good job of widening the normal rows and we discovered that in a regular row, there was ample leg room for someone 6'2". Keep this in mind if you chose an exit row - we won't again. They served a pretty nice breakfast, a warm bagel and a banana.
The change of planes in Miami was uneventful, except that they had us at the two terminals that are farthest apart and there is no moving walkway, train etc. Luckily we had ample time to get to the other gate. We were informed that although this wasn't normally a flight with a movie, they had one on the plane for us to watch - "Men of Honor." We had a choice for lunch - BBQ chicken strips (Chris said they were pretty tasty) and Cheese Tortellini (which I had and was very good). The airport in Aruba was uneventful, except that we had a wait for the luggage. Many people say that it is better to carry on all of your luggage for this reason, but I can't imagine making the trek we had to make at the Miami airport with all of our luggage. We did have one carry on with all of our vital - can't live without it- stuff (just in case our luggage was lost or delayed). We took everyone's suggestion about grabbing a taxi instead of the bus transfer. The fare was $16. The cab driver was very friendly and got us to the Bucuti quickly - we gave her a $20.
The Bucuti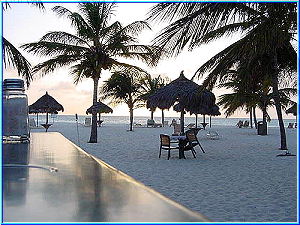 Bucutti beach Resort Aruba I can not say enough wonderful things about this hotel. As soon as we got out of the cab, Alvin took our bags on a cart and offered us a glass of champagne. Chris accepted but I declined (I get very light headed from champagne). He disappeared and returned with Chris' champagne and a glass of ice water for me - which I didn't ask for but desperately needed. The check-in process was very smooth. We were seated in comfy chairs and Inez explained all of the hotel amenities. When we had signed everything, she explained that they were out of the rooms that we had requested so they upgraded us to a bungalow. The Bungalow - We could not believe our good fortune. Alvin took us to our bungalow - it is a stand alone, round building between the Bucuti and the pool. It is divided into 3 separate bungalows with a full kitchen, sleep sofa, king-size bed, large bathroom and porch with lounge chairs. Our bungalow faced the garden area - which is landscaped beautifully. Alvin explained all of the remotes for the room, showed us around and dropped off our bags. When the reservations were made, the Bucuti had asked if we were coming for a special occasion. Chris had told them that we were there celebrating our 5th anniversary. The hotel had a beautiful "happy anniversary" basket in our room with Balloons, champagne, cheese, crackers and chocolates. It made us feel very welcomed.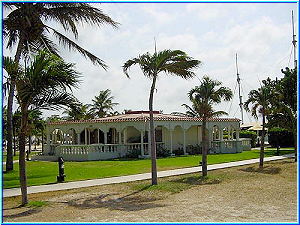 Pirate's Nest The Staff - One morning while deciding if we were going to breakfast at the Pirate's Nest - Deborah, the asst. hotel manager, came up to us to tell Chris about the baby bird he had discovered, fed and left in Deborah's care. After chatting about the bird, she invited us to join a breakfast focus group about the hotel. We were provided a continental breakfast and asked our opinions, along with the other 5 guests who joined us, about the hotel and possible improvements. The heads of each department were there taking notes. It was nice to know that they really cared about our opinions. Later that day we discovered a "thank you" gift from Deborah - 2 Bucuti t-shirts.
Everyone at the hotel couldn't be more helpful or friendly. Naomi and Karsten at the Activities Desk were especially helpful with information and making reservations.
Rental Car
To rent or not to rent - that is the question! And if you do rent, for how many days? We decided to rent for 3 days. That would leave us without a car the day we arrived, the next full day, and the day we left. We knew that our primary goal this vacation was to snorkle - so renting a car was best for us so we could explore the different beaches. A snorkle cruise wasn't right for us since we have our own equipment, didn't want to drink before snorkling and didn't need any lessons. It didn't seem worthwhile. We rented from Economy and used our Visit Aruba Plus card for the 10% off - this paid for the card itself. Chris ordered it online and had no problems selected exactly what he wanted. The car was fairly new, had low mileage and worked fine. What Chris failed to tell me was that "Economy Rental" would pick us up at the Bucuti Friday morning at 8:30am. We were sound asleep when the phone woke us telling us that Economy was waiting for us. I had no idea what they were talking about, but told them that we'd be there in 10 minutes. We started to quickly get dressed when the phone rang again and we were told that Economy said not to hurry, and to inform the Bucuti front desk when we were ready to be picked up. That made it much easier for us - and they came within 5 minutes once we were ready. They also provided us with a nice map of Aruba and some great coupons. Returning the car was just as smooth. It was $120.00 total for the 3 days with the 10% off.
Activities
This was meant to be a relaxing vacation so we didn't want to schedule too many activities. We wanted the freedom to do what we wanted to do, when we wanted to do it. Parties - Our first day on Aruba we went to the BB party at the Amsterdam Manor. It was great getting to meet everyone in person. The drinks were flowing and so were the appetizers (even though we couldn't tell what anything was!) Chris and I took off before the sunset cruise because we were exhausted from the flight.
On Thursday we went to our activities desk to sign up for the KuKoo Kanuku Bus on Saturday night. They were booked Saturday but had Friday and Monday available. We wouldn't be here Monday night and Friday night was our anniversary and we wanted a quiet, romantic evening. They checked for Thursday night and there were a few spaces available. The Bucuti cancelled our dinner reservations for that evening and we jumped in a quick shower to get ready for our evening. The bus was ¾ full when it arrived for us. We grabbed a couple of maracas and joined in the singing and shaking as we picked up the rest of the group. Cindy, who we had just met at the bulletin board happy hour the day before, was on our bus. On the way to the Lighthouse, our bus was there well before the other bus we join up with so our bus took a little detour by Arashi beach. In the parking lot there was a bus from De Palm Tours unloading - and the Kukoo bus kept circling the parking lot while our music blasted and we shook our maracas at them. I think they were envious that we were obviously having so much fun. At the Lighthouse we had a sunset champagne toast once the other bus showed up. I met a wonderful woman named Marlene and Chris and I hooked up with her and her husband Tony for the rest of the evening.
The dinner at the Ambassador's house was rather tasty, even though we weren't sure what we were eating. The house was beautiful. We were surprised that someone would allow us crazy tourists into such a beautiful place. The first drink was free and all other drinks were $2. My first drink (rum and coke) was a little too strong and when Chris went to get me a Coke - to even it out - they almost wouldn't sell it to him. They couldn't believe that someone wanted a plain soda. The tables seated four, so we ate at a table with Marlene and Tony. After dinner it was back on the bus. The music was blasting through the open windows and we honked and shook our maracas at everything that moved. The traffic circles were particularly fun since we just kept going around the circle until the driver felt good and ready to continue on. Even the locals were laughing at our antics. The bus stopped at 2 local bars in the countryside. Your first drink was free and each additional drink was happy hour prices (although some weren't that cheap). There was good music and lots of dancing at each bar.
The last bar was Carlos and Charlie's. We lined up to get in and lime/tequila shots were poured into our mouths as we entered. We took over the upstairs. Marlene and Tony bought a round of jello shots for us without knowing that the server smooshed the entire shot into your mouth. It was hard to keep from spitting jello while I was laughing and chewing. We bought the next round of sex on the beach shots and everyone got to keep the shot glass. Then it was time for the bus ride back to the hotels. The bus stopped at Manchebo (which is next to Bucuti) and we thought that we were the next stop but it didn't stop at Bucuti. They expected us to get off at Manchebo but we didn't know that and it was too late by the time it was noticed. So we were the last off the bus. It was hard to say goodbye to Marlene and Tony - we had bonded that night - but address and phone numbers were exchanged and hopefully we'll meet up in Aruba next year. At the first bar, the Kukoo bus sells their CD and T-shirts. We bought one of each. The CD is so nice to place here and remember our fun and wacky evening.
Snorkeling and see some fish Snorkeling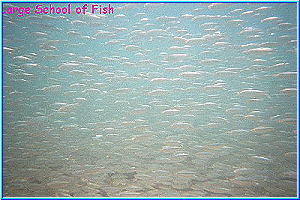 We attempted to snorkel at Bucuti on Eagle Beach. I haven't snorkeled in over a year and it takes me a few minutes to get comfortable with it again. I prefer calm water that I can comfortably stand in. This was a little rough and not very shallow. Chris had no trouble snorkeling but told me not to worry that I wasn't comfortable with it since there weren't many fish to see there anyway.
Our next snorkel trip was to Malmok Beach. The Aruba web site about beaches recommended it for snorkeling and calm water. They were right on both counts. You need to be careful when entering the water because there are large rocks at the shore - but large rocks usually means lots of fish! We have been snorkeling at many islands in the Caribbean and have never seen as many fish or as many varieties of fish. It didn't hurt that we brought fish food with us in plastic baggies. We had fish food at home that we don't use because none of our fish will eat it - so we brought it - and some crackers - with us. Feeding fish I would toss the food and Chris was aim the underwater camera. What a feeding frenzy! We saw a school of squid, some beautiful angel fish, a huge pipe fish, butterfly fish, box fish, damsels, gunards, wrasses, tangs, grouper and many fish that Chris couldn't identify (Chris is something of an expert on tropical/marine fish). The most awesome experience was once while we were busy talking to each we didn't notice a school of fish surround us. When we put our masks on and went back under - we were surrounded by millions of small, silver fish. It was an amazing site. They were everywhere! I could see they way they moved around Chris as he moved in the water. We really felt one with nature.
Dining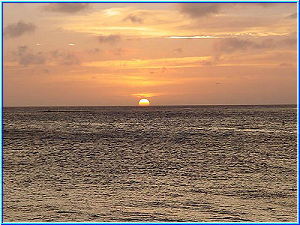 Many restaurants include a service charge on their bills. This charge is divided amongst the waiters, kitchen and staff. It is clearly marked on the bill. I will mention the service charge each restaurant includes. If we received very good service, we added extra to the bill. Unless otherwise mentioned, we usually only drink soda. Most restaurants served bread and many times it was similar to garlic bread.
Restaurant on the beach Pirate's Nest - Dinner - our first night in Aruba we were exhausted from the travel. We ate at the Bucuti. The sunset was fantastic. I had the salmon and Chris had the garlic shrimp. The meal was good. The service was attentive. We only drank sodas and were too full for dessert. $54 with 15% service charge included.
Breakfast - our first morning in Aruba we ate the champagne buffet at the Bucuti. It included cereal, many fresh fruits, meats, cheeses, bacon, sausage, home potatoes, made-to-order eggs/omelets, and a specialty dish, which was banana pancakes. Everything was delicious - especially the passion fruit juice which we are trying to track down in our neighborhood. $30 with 15% service charge included.
Lunch - once again we ate at the Bucuti our first full day in Aruba (couldn't tear ourselves from the beach). I had the fried shrimp and Chris had the salad (which he shared with several birds and iguanas). We shared the mango sorbet for dessert - delicious! Service was a little slow - but I think she saw us feeding the animals and figured we were in no hurry. $30 with 15% service charge included.
Iguana Joe's - We were cruising around town and buying souvenirs when we stopped in here for lunch. The pink iguana and cactus colada drinks were excellent! We split the nachos (some of the best), I had the shrimp caesar salad and Chris had "Not the usual Joe's chicken sandwich." Both were huge and very good. Very good service. $45 (no service charge) for all.
Brisas del Mar Brisas del Mar - We made reservations here for our 5th anniversary dinner, based on suggestions from the bulletin board. The sunsets here can't be beat! The restaurant is a bit of a drive from the hotels and don't be fooled by the exterior. The front looks like a shack but the back is beautiful. The service was only "ok" but that was just our waiter (and I think it was a little personal). We didn't order alcohol and sometimes you get treated a little differently. The table next to us ordered a bottle of wine and he seemed to pay more attention to them. The food was good. I had the escargot (very large and delicious) and filet mignon. Chris had the surf & turf (steak & shrimp). He was disappointed that they were out of the conch fitters, because he had hoped to try them. $60 with 10% service charge included.
Chalet Suisse - I can't say enough about this restaurant. Chris and I live outside of DC and are used to eating in fine restaurants. We both agree that this was the best meal we have EVER eaten. Chris had a salad with the house dressing - creamy garlic. The dressing was incredible. We asked them if they bottled it so we could take some home. I couldn't stop helping myself to some of his salad. We split the Chateaubriand. They rolled out a cart with a huge hunk of beef on it and sliced it at our table - first showing us the doneness to see if it met with our satisfaction. It looked perfect! We like our meat medium rare, which usually means that it isn't very warm on the inside when you eat it. After he sliced it and prepared it on our plates and served it to us - it was still hot on the inside even though it was very pink! The meat was so tender that we literally cut it with our forks and it melted in your mouth. The outside was crusty and very flavorful. As full as we were, we had to have the chocolate toblerone fondue for dessert. They brought us a huge plate piled with fresh fruits and pound cake. The chocolate was incredible and the fruit was perfectly ripe. The service was beyond excellent. Many servers came by our table to see that we were satisfied and didn't need anything. The restaurant was closed on Sunday and we left on Monday - otherwise we would have been there again. We have already decided that our next trip to Aruba will begin and end at the Chalet Suisse. $85 with 15% service charge included.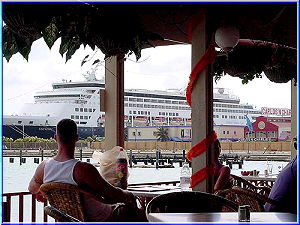 The Paddock The Paddock - we went downtown hoping to go to Iguana Joe's again but it was closed. The Paddock across the street was open. It is a pretty place to eat and look at the ships in port. The service was painfully slow. We each ordered a cocktail, I had a brie sandwich, Chris had a Tuna sub and we split an order of fries that were great! $19 (no service charge).
Captain's Table - Our last night we didn't want to make reservations. We stayed at the Bucuti's Sandbar watching the sunset and then showered and dressed for dinner. We wanted to go to the Buccaneer because of the fish tanks, but it was closed Sunday. We chose the Captain's table because it was close by and we wanted our last night to be a seafood restaurant. I had the escargot and salmon (a little too much dill sauce covering it) and Chris had the shrimp and scallop linguine. The food was very good and the service was fine. $58 with 15% service charge included.
Shopping
We found a great store for souvenirs in a small mall in town across from Kong Hing. It had a little of everything in it and we found something for everyone. There are a couple of places around town that had great bargains. We bought nice beach towels for $6 and a great sweatshirt for $20. Chris had a headache and we went to the downtown Kong Hing, a grocery store, for aspirin. Aspirin didn't translate that well, but eventually someone understood what we needed and sent us to the pharmacy. A good size bottle was about $9 - the same we pay at home. The prices were in AFL (Florins) and we had to get used to figuring out what it would be in dollars. Grocery and drug stores in town convert at 1.75 to cover for bank charges where most other places convert at 1.77. It wasn't too hard. A fifth of local rum was about $9.50 - pretty good bargain. Later in the week we returned to the Kong Hing near the lo-rise hotels. We had a full kitchen in our bungalow and decided to get a few items. It was cheaper and more convenient to eat breakfast in our room and to have a midday snack instead of searching for a place to eat out. We wanted to save the big meals for our dinners. That grocery store had everything! It was interesting to see the various items. Some items that are made in the USA are not available in our local groceries. We noticed several Nestle and Hershey products that we've never seen before. Some fruits and veggies we couldn't identify. Once again, the items are priced in Florins but the cashiers have no trouble converting it into dollars. Don't be surprised if you pay with cash to receive back your coins in Florins. I saw one gentleman ask how much gum/candy he could buy for his remaining Florins. We didn't mind keeping a few coins. It is interesting to see another country's money.
Sea Turtles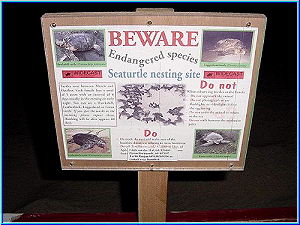 The first thing we noticed that seemed odd about Bucuti's beach was a barricade about 60 feet from the water's edge. As you approached the barricade you could see that it was protecting a sand pile. Signs explained that the pile was actually a sea turtle's nest and gave further information about the nesting process. The following morning we noticed several people standing on the beach, about 60 feet from the water's edge, staring at the sand. When we approached we saw a new turtle's nest. Since the wind is always blowing in Aruba, it can be difficult to spot a nest because the blowing sand covers the turtle's tracks. We were able to see the flipper marks left by the mommy turtle. It was quite astonishing. The hotel was notified and security guarded the area until a new barricade could be erected. Chris wanted to sleep on the beach because they say that the mama turtle returns 5-8 times to build new nests before she is done then comes back several days later to check on her nest at night. He didn't, but he did keep an eye out every evening for mama's return.
Doves and some type of black bird also liked to nest Birds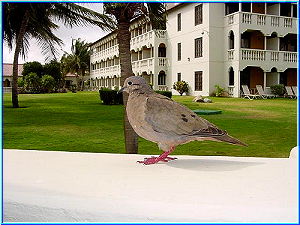 The Bucuti has several beautiful parrots around the hotel. Doves and some type of black bird also liked to nest on the grounds of the Bucuti. The birds would often come begging for food - and we were only too happy to oblige. One dove in particular was very up front about his begging. Most birds would be on the ground, near your table at meals. This dove got up the courage to get on our table. Of course Chris rewarded his behavior by feeding him on the table. But Chris wasn't giving him enough food or attention. Any time Chris would look away the dove would try to edge near his plate in hopes of stealing something. When Chris would look back, he'd back up - trying to look innocent. Chris tested this bird's hunger and courage by slowly drawing him closer and closer with a roll. Eventually, the bird was on Chris' finger eating out of his hand! One morning outside the Bucuti, a waitress came up to Chris with a baby bird in her hand. She said that it must have fallen out of its nest and that she was concerned because other birds seemed to be picking on it. She attempted to leave it in a spot she thought might be safe for the bird, but we noticed other birds eventually come near, trying to bother the baby. Chris went to rescue the baby bird. He brought it back to our table to tried to feed it. I ran and got some milk so that we could dip our bread in the milk to soften it. The bird seemed to like drinking the milk off the bread. Not knowing what else to do with the baby bird, Chris went into the hotel to speak to a staff member. Deborah, the assistant manager, said that she would take the bird home and care for it. Deborah made sure to speak to Chris later in the week to let him know the baby bird's progress.
Iguana Iguanas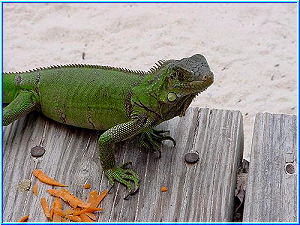 I hope that visitors to the Bucuti will continue to feed the iguanas because they certainly became accustomed to Chris' daily feedings. He would feed any iguana that came near our table at the Pirate's Nest. One iguana crept up to him in the morning when we were eating breakfast. That iguana ended up with a full belly of grapes, cantaloupe, and pineapple. Chris would save lettuce, tomato, etc from every meal to bring back to the Bucuti. He would go to the grounds in front of our bungalow and feed the iguanas. One in particular let him get very close. I shot some video of Chris, lying on the grass, holding half a banana with the iguana taking bites. Can you guess what Chris bought when we returned home? Our cats now have a new iguana playmate.
American Airlines Flight Home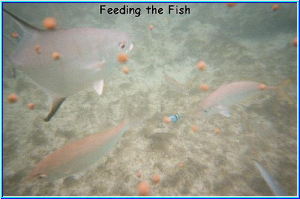 We arrived at the airport early because of past trip reports mentioning long lines and running for the plane. I think we got there a little too early because there was only 1 person at the American Airlines counter and she was primarily there for future travel. She did start to check people in, once her line cleared, but only one person makes for a slow moving line. Some people behind us starting fussing and complaining. I held my tongue but felt like asking them what they were in a hurry for. The plane didn't leave for over 3 hours. The woman explained that we were very early for the flight and that the other airline people would be in at noon to check us in. Sure enough, 3 other people showed up at noon. Check-in was very smooth. If you haven't been through it before, you check your bags at the front counter, go through the airport to a baggage area, grab your bags again and carry them to customs. The line at customs moved so quickly that Chris barely had time to fill out the form. We changed our seats on the flight to Miami (we each had a window seat and Chris sat directly in front of me). Being out of that exit row was a pleasure. We had a small chicken salad sandwich, chips and cookie for lunch. You could listen to a variety of music stations or watch a CBS special program, which included an episode of "The King of Queens." Once in Miami, the walk to the next terminal was unreal. We went through corridor after corridor with no signs of life (let alone a bathroom). The flight to DC was not as pleasant. It was a very full flight, we had no time in Miami to grab dinner and we were only given a bag of pretzels and a cup of soda (instead of the entire can). Our bags came out of the chute very quickly and one after the other. I know that many people prefer not to check luggage but to carry it instead. We happened to have no trouble with ours and were glad not to have to drag everything through the mile of corridors in Miami.
What to bring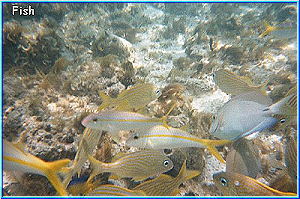 We each brought a couple of pairs of slacks - in case it got cold at night or we wanted to dress a little less casually. We never wore a single pair. We both wore shorts (I often wore long shorts or capri pants) to dinner with a nice shirt. We both prefer to wear sneakers (more comfortable) and wore them everywhere. Bring plenty of sunscreen and use it on your head if you have short hair and don't wear a hat or if you plan to be in the water (Chris burned his scalp). Our room had a refrigerator with a tiny freezer and one thing we did was fill up 2 small water bottles with tap water (Aruba's tap water is like filtered water in the states) and left them in the freezer. The next day we brought them to the beach with us. I also recommend packing an extra, empty duffel bag if you are like us and intend to buy souvenirs. I don't know how we would have made it home without it. As I mentioned at the start of the long report, I had printed a bunch of info about Aruba that I brought along. This was very helpful in remembering which restaurants we wanted to be certain to go to and which beaches to snorkel on. The hotel had many Aruba guides and the Airline actually handed out an Aruba magazine filled with great information. The Visit Aruba Plus card was great for getting 10% off the car rental and 10% off one Kukoo Kanuku bus admission. There are many more discounts it offers but those are the two we used and it was well worth the $10 for the card. I have included a link to our Aruba site. Chris has done a great job of posting all of our photos, trip report, and other links. He will continue to update this site as necessary. Please feel free to contact us if you have any questions.
Chris & Amy